'Forced labour' of migrants in UK food industry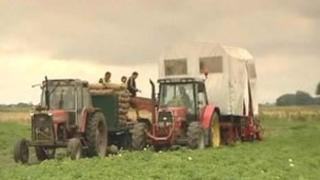 Some migrant workers face threatening and inhumane conditions in parts of the UK food industry, a report claims.
The "bottom of the UK labour market" in sectors such as agriculture, can be exploitative - says the Joseph Rowntree Foundation (JRF).
The report authors interviewed 62 foreign workers, mainly Polish, Chinese, Latvian and Lithuanian, across England and Scotland.
Forced labour is a criminal offence in the UK.
It became enshrined in law via the 2009 Coroners and Justice Act in England, Wales and Northern Ireland, and the 2010 Criminal Justice and Licensing Act in Scotland.
But many of the workers interviewed reported they had become trapped through "under-work" - having paid agents to get to the UK and obtain work they were then given just enough to meet debt repayments.
Racist bullying
Those interviewed worked in either agriculture, food processing or catering.
Nina, a 50-year-old Lithuanian woman, said in the report: "We paid (the gangmaster) £250 each for providing work for us.
"It was for the opportunity to work. She did not request money straightaway.
"We started to work, earned some money and then she demanded £250 from each person. If you do not pay, you would sit without work."
Researchers found cases of migrants being forced to share cramped accommodation (sometimes with strangers) and subjected to threats and racist bullying.
Adriana, a 30-year-old Romanian woman, said: "I was hating the alarm clock. When it was ringing and knew I had to go back there, I felt like the sky was falling on me, but I had no other choice.
"I was sad all the time, tense, and day by day you are being treated like the least nothing on earth."
Productivity targets and workplace surveillance were found to be excessive, with people claiming they were given impossible targets to meet.
Sam Scott, one of the report's authors, said: "Most of the migrants we spoke to in this research are in the UK legally, but their employment conditions are far from legal.
"Withholding payment, illegal deductions from wages and no proper breaks are all regular occurrences."
Greater role
The report recommends the Gangmasters' Licensing Authority (GLA), the body responsible for protecting workers in agriculture, food processing and shellfish gathering from exploitation, be given a greater role in tackling workplace abuse.
The 2004 Gangmasters (Licensing) Bill introduced three offences - being an unlicensed gangmaster, using an unlicensed gangmaster to supply labour, and obstructing a GLA officer in the course of their duty.
If a licensed gangmaster is found to have not complied with the standards required by the GLA, the authority can revoke their licence but it cannot prosecute them - that is currently a matter for the police.
A GLA spokesman said there were about 1,200 licensed gangmasters in the UK.
He said the GLA could not comment on whether its powers should be strengthened as that was a matter for government.
The report's authors also called for more action by HM Revenue and Customs (HMRC) to tackle minimum wage violations and exploitative employers not passing on PAYE tax and National Insurance.
A HMRC spokeswoman said: "HMRC looks into every complaint made about national minimum wage and takes appropriate action in each case."
She said anyone with queries about the national minimum wage could call a free pay and work rights helpline.
She added: "Tax that has been deducted at source, from the wages of employees, must by law be paid over to HMRC. When it is not, HMRC takes firm action."
The report also calls on large food retailers and suppliers to increase the monitoring of their supply chains to ensure minimum wage is paid, and to avoid audits where employers hand-pick the workers who give evidence.
The foundation would also like to see improved access to free English language lessons so migrant workers can improve their knowledge of their rights and ask for help, and easier access to legal redress and compensation.