Newspaper review: Papers discuss eurozone warnings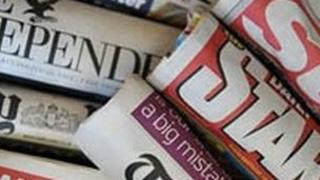 Press coverage of the eurozone crisis reflects the warnings made by, among others, the Bank of England governor Sir Mervyn King.
The Times describes Sir Mervyn's fears that the eurozone is showing signs of tearing itself apart, as "extraordinarily blunt words".
The Daily Mail's headline asks: "How much longer can the euro survive?"
The Daily Express has the headline "Death of the euro" while for the Sun it is all "eurogeddon".
Swimming concerns
There is little sympathy for police officers who jeered and heckled Home Secretary Theresa May at their annual conference over cuts to the service in England and Wales.
The Daily Telegraph says they displayed a staggering lack of courtesy.
For the Sun, hysteria got the better of the Police Federation. You'd think coppers would behave better, it says.
According to the Independent, research suggests that one in three children leaves primary school unable to swim.
The Telegraph reports that Spain's government has ordered Queen Sofia of Spain to pull out of a Diamond Jubilee lunch for Europe's royal families.
It says this comes after Spain complained to Britain about the jubilee visit to Gibraltar next month by the Earl and Countess of Wessex.
The Mail says the Queen will be dismayed at the news. What should have been a celebration for her jubilee has been hijacked by political machinations, the paper says.
Dressing down
The Duke of Edinburgh appears to have made one of his famous quips during a jubilee walkabout with the Queen in South London.
According to the Telegraph, he spotted a young woman wearing an eye-catching red outfit with the zip at the front.
He then told a nearby police officer: "I would get arrested if I unzipped that dress."
The Daily Mirror says the officer was highly amused and the Sun reports this as "one of Prince Philip's classics".