Church of England welcomes money to offset VAT on alterations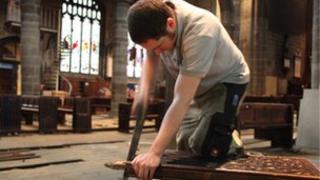 The Church of England has welcomed a £30m government offer to fund alterations and repairs to the Church's 12,500 listed buildings.
The package is designed to offset a change in tax duty that will see 20% VAT charged on church alterations.
The government's offer is on top of £12m already provided to the Listed Places of Worship Grant Scheme (LPWGS).
The C of E had unsuccessfully lobbied the government to keep renovations on listed buildings exempt from VAT.
Welcoming the new money, the Bishop of London the Right Reverend Richard Chartres said it was "recognition of the massive contribution made by congregations up and down the land to the life of their communities".
Last month, former foreign secretary Lord Hurd attacked government plans to introduce VAT on church renovations, claiming the Church of England already had "a raw deal".
The Church has said its buildings are often altered in order to make them available for use by small communities as post offices, cafes or crèches.
From October this year the Treasury will charge VAT at 20% on approved alterations to listed buildings.
The Church of England, which estimates the change will cost it £20m a year, had warned the plan could mean renovations projects were scrapped.
The Treasury said it needed to take steps to correct "significant anomalies" in the VAT system.
The Church issued a statement on Thursday saying: "Despite not persuading the government that maintaining zero rated VAT for alterations is the best way forward, church leaders today said that the £30m a year extra money that the Chancellor has committed to the LPWGS will enable the equivalent to the VAT bill to be paid out on all alterations and repairs to listed church buildings.
"The scheme pays out to those denominations and faiths with listed buildings."
The LPWGS will be ring-fenced and not vulnerable to cuts in departmental budgets.