'My third go at getting Olympics tickets'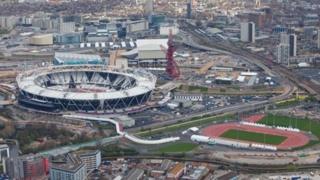 The window allowing people to try again if they previously failed to secure Olympics tickets has closed.
The five-day sale began on Sunday, with batches of tickets released daily, and closed at 23:00 BST on Thursday.
Any tickets which remain unsold - including any from the batch of 70,000 Olympic Park ground tickets - will be put on general release from 23 May.
Additional Olympic Park ground tickets will go on sale closer to the start of the Games.
BBC News website readers tell us how they tried - unsuccessfully - to get tickets.
Dr Polina Bayvel, London
I logged in to try to buy tickets at the precise minute they were released.
But I failed every time. I tried popular tickets such as swimming and gymnastics.
Much time was wasted adding and deleting tickets and going up and up in price, only to receive the message "the tickets you requested are not available", even though they were shown on the website against the event.
Using the website is a long, laborious and inconvenient process.
This was my third go at getting Olympics tickets.
It's like an auction. You go for £40 tickets, and when they are not available you go for £50 tickets, and then £60.
In the end I just felt disappointed, mainly over the time wasted. Why con people? Or is this an exercise in raising as much money as possible in the search for non-existing tickets?
Pat Stearman, Norwich, Norfolk
I have tried continuously since Sunday to get tickets.
My daughter and I were trying to get three tickets, and this was our second attempt.
Athletics was my priority but I realised this was not going to be possible, so then I tried for diving and also triathalon but to no avail.
I spent most of Thursday trying for tickets to the Olympic Park but was again unsuccessful.
I am very disappointed. I can't understand it. It's a farce! We put in any event, any day, and still we couldn't get tickets.
Tom Evans, East London
It was a total disaster from the start.
When the first sale of tickets went live we had three different family members trying to purchase athletics tickets - it would have been more but tickets had to be purchased with Visa cards which not everyone had.
When the second general sales came round my wife and I were on honeymoon in Kenya so unable to apply.
Other family members tried again and managed to get basketball and handball tickets. They wanted athletics tickets but none were available and the system kept crashing.
As a result of us being away on safari with no internet access we weren't were eligible for the 20,000 tickets which were made available on 11 May.
I felt sick with envy when I heard that those 20,000 were purchasing face value tickets for athletics events including the sprint finals.
I spent six hours applying again when the other resale opened on Sunday 13 May but again was unsuccessful.
This morning I went to a Spanish website that was selling tickets but have again missed out.
It would appear now with hindsight we should have got onto foreign websites a lot sooner. Sadly we trusted our system - EPIC FAIL!
Living in East London and having been a massive sports fan all my life this should be the ultimate experience for me.
I feel bitter about the whole experience and the whole games.
As Londoners we are paying extra for the Olympics and I have experienced none of the privileges of being host nation. Although my life will be disrupted no end.
I'm still desperately clinging to the hope that we may get tickets. Just two tickets to any athletic events for me and my wife - Is that too much to ask?
More of your comments
Phil Mathe in Kent writes: Yet again my family are left disappointed. Tried every day, for a variety of price ranges for a variety of sports, sat and waited and guess what, absolutely nothing. I probably could have got tickets if I'd had £700 each to spend but we don't. We just wanted four tickets to something, and instead we sit here now with two gutted children and nothing but ill feeling towards the whole process. What a joke.
Sue Merifield in Witney, Oxfordshire, says: I am rather disappointed for my kids in particular - unsuccessful in the first round and invited subsequently to try again - but I've looked at so many events and there are only high price tickets left, which for us as a family of four are out of the question. Also, the email I received today was entitled "You're chance for Olympic tickets" - shocking to have such an elementary spelling mistake on this!
Tony in Nottingham comments: Wanted to buy Olympic Park tickets today but the only sessions coming up were for the first week up to 2 August. No explanation or details of how to buy tickets for later dates.
Ade Smith, in Croydon, writes: Still fuming over this priority window just closed. As someone who missed out in the opening lottery I bought an event in the second stage that I wasn't that fussed about - just to get a ticket. If had known that this stopped me from applying in this round I wouldn't have bothered. Ticket sales have been a farce - the process has dampened people's enthusiasm for the Games.