Barry George in compensation case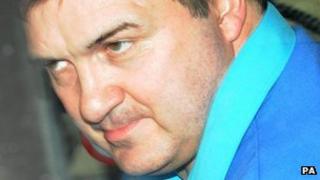 Barry George, who was wrongly convicted of the murder of BBC TV presenter Jill Dando, can fight a test case for compensation, a judge has ruled.
Mr George, who spent eight years in prison before being cleared after a retrial, will be one of five lead cases to be heard at the High Court.
They will help establish the boundaries of what amounts to a miscarriage of justice meriting compensation.
It follows a ruling at the Supreme Court last year.
Nine judges had considered appeals by three men, not including Mr George, who said they had wrongly been refused compensation after their murder convictions were overturned.
Their judgement in those cases redefined the legal meaning of what amounted to a miscarriage of justice after debating when compensation should be awarded to wrongly convicted people.
Mr George's claim for damages for lost earnings and wrongful imprisonment was rejected by the Ministry of Justice, on the basis he was not legally entitled to compensation.
In the most recent hearing, London's High Court Mr Justice Irwin said the five test cases would "illustrate the boundaries of the law" as it currently stands, to help settle future compensation cases.
He said he aimed to hear the lead cases in the second week of October.
New definition
Miss Dando, 37, was shot dead on her doorstep in Fulham, west London, in April 1999.
Mr George was convicted in 2001 but an Old Bailey retrial took place in 2008 after doubt was cast on the reliability of gunshot residue evidence.
In his ruling last year, Supreme Court president Lord Phillips argued that the "mere quashing" of a conviction could not be a "trigger for compensation".
A miscarriage of justice occurred when a new fact "so undermined" prosecution evidence that no conviction could "possibly be based upon it," he said.
The new "test" would not guarantee that all those entitled to compensation were "in fact innocent".
But it would ensure that innocent defendants convicted on discredited evidence were not "precluded" from obtaining compensation because they could not prove their innocence beyond reasonable doubt.
The Ministry of Justice said its lawyers expected compensation would "still only be paid in very few cases".
Nick Baird, solicitor for Mr George, said: "Notwithstanding Mr George's acquittal, and notwithstanding what was said in the (Supreme Court), the justice secretary has stuck by his original decision not to consider his application for compensation."
He added that if Mr George won his claim the amount he could receive would be capped at £500,000.