Abu Qatada bail hearing set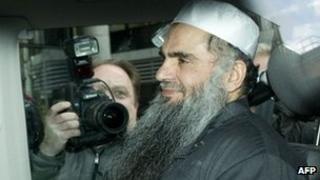 A bail hearing for radical cleric Abu Qatada is to be heard at the end of the month, the Judicial Communications Office has said.
Abu Qatada, 51, is being held in a high security prison while he fights deportation to Jordan over terror charges.
His application will be heard by a senior immigration judge on 28 May.
Earlier this month his bid to make a final appeal to the European Court of Human Rights failed.
The preacher says he faces possible torture in Jordan if he is deported from the UK.
The hearing will be held before Mr Justice Mitting at the Special Immigration Appeals Commission (Siac) in central London at 14:00 BST on 28 May.
A Home Office spokeswoman said: "We believe Abu Qatada poses a real risk to national security and will continue vigorously to resist any application for him to be bailed."
On 9 May a panel of European judges of the Grand Chamber found the appeal had arrived in time - but refused it, saying their judgement on 17 January was final.
That ruling said the UK government had received satisfactory assurances from Jordan that the preacher would not face torture if returned.
But it said he should not be deported until there was a further assurance his expected retrial on terrorism offences would not include evidence obtained by torture of others.
Following the ruling, Home Secretary Theresa May said she was confident Abu Qatada would soon be "out of Britain for good".
His lawyers immediately applied for him to be released on bail. They say the political situation in Jordan has also worsened in recent months, casting fresh doubt on the UK's ability to deport him.