London 2012: Olympic tickets delivered in weeks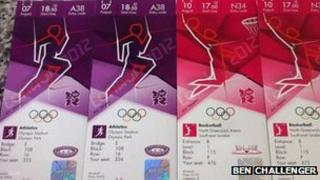 London 2012 tickets will be sent to households in the coming weeks, ticketholders have been informed.
Emails were sent on Saturday by organisers to inform people about distribution arrangements.
"Tickets will start to be delivered from late May with deliveries continuing into July," it said.
The first tickets to the Games were released on Friday, revealing colourful designs featuring competitors from the different sports.
But those were for athletes - spectators will have to wait at least another week before receiving theirs.
They will be delivered using the Royal Mail's tracking system and they must be signed for, said organisers.
On the day of delivery, ticketholders will be informed by email and/or text message.
If there is no one at the address, a card will be left and another email or text message sent to notify people of the delivery attempt.
The email sent on Saturday also confirmed that each ticket for events in the London area will include a free "Games Travelcard", which is valid for use on public transport in London zones 1-9 on the day of the event.
A five-day general sales window closed on Thursday for people who applied for but failed to buy Olympic tickets last year.
About 1m people who were disappointed in the first ballot in March 2011 and who failed again or did not apply in second-chance sales in July were eligible.
The batch included 70,000 ground tickets for the Olympic Park, made available for the first time.
Remaining Paralympic tickets go on sale on Monday, and remaining Olympic tickets on Wednesday.