Newspaper review: Focus on outcome of eurozone talks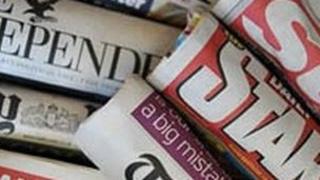 Sunday's newspapers analyse the fall out from the G8's eurozone crisis talks.
In the words of the Sunday Telegraph, German Chancellor Angela Merkel cut an "isolated figure" at Camp David.
It describes how she came under "intense pressure" to do more to support the struggling currency, despite the concerns of Germany's taxpayers.
The Independent on Sunday says a final statement from the G8 leaders mentioned "growth" 10 times, but "Merkel-style austerity" only three times.
'Euro-babble'
No specific steps for boosting the eurozone economies were identified, much to the dismay of the Sunday Times.
"Europe urgently needs a plan... all we have had is euro-babble," it says.
Also in the paper, Chancellor George Osborne repeats his call for decisive action and says the UK government is planning for "all potential outcomes".
But former chancellor Alistair Darling attacks the prime minister's strategy in the Sunday Mirror , saying change is needed at home as well as across the Channel.
Best of British
The Sunday Express highlights the Jubilee tribute by the armed forces in Windsor on Saturday.
It notes that the Queen was "visibly delighted" by what the newspaper describes as a "dazzling display".
The Sunday Telegraph is equally impressed by what it describes as a "particularly British occasion".
The event was rich in pageantry, without jingoism, flashiness or macho posturing; the Queen showed an elegantly modest touch, it says.
'Kings of Europe'
The Mail on Sunday is among several papers to welcome the arrival of the Olympic torch to the UK.
But the Sun on Sunday is bemused by the torchbearers who have put their torches on eBay, pointing out that "it's not exactly in the spirit of the Games".
"Kings of Europe", declares the Independent on Sunday, of the Chelsea players who triumphed in the Champions League.
The Sunday Mirror says Didier Drogba, who scored a vital goal before shooting the winning penalty, is "TOP DROG!".