Leveson Inquiry: Johnson wishes he ordered independent review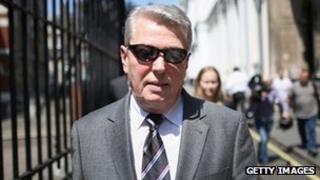 Former home secretary Alan Johnson said he regrets not ordering an independent inquiry into Scotland Yard's handling of the phone-hacking scandal.
The Labour MP told the Leveson Inquiry he had been assured by the police that the practice was not widespread.
He also revealed how on first meeting Rebekah Brooks, he called her "Rachel" by mistake.
Earlier, Labour's deputy chairman Tom Watson claimed about 12 MPs had told him they had been targeted by tabloids.
They feared "ridicule and humiliation over their private lives or political mistakes", the Culture, Media and Sport Select Committee member added.
Also giving evidence was Lord Smith, who as Chris Smith was Tony Blair's culture secretary between 1997 and 2001.
He echoed Mr Johnson's regret in not doing more at the time to tackle the behaviour of the press.
The Leveson Inquiry is looking into the relationship between politicians and the media.
'Something personal'
Giving evidence to the inquiry, Mr Johnson stressed he had been given assurances by the Metropolitan police in 2009 that the issue of phone-hacking did not go beyond two individuals.
At the time, the News of the World's (NoW) royal reporter Clive Goodman and private investigator Glenn Mulcaire had been convicted and jailed for hacking.
Claims murdered schoolgirl Milly Dowler's voicemail had been illegally accessed had not come to light while Mr Johnson was home secretary.
He told the inquiry that - in hindsight - he should have approached HM Inspectorate of Constabulary to investigate.
"I think at that stage deciding not to call in someone independently to examine it... was a sound decision.
"I wish I had called them in," he said.
The Labour MP also criticised the media's handling of complicated stories, claiming small errors by ministers were sometimes too readily seized upon.
"The Government need to get very important, sometimes complex, information across but the slightest slip and it turns into something personal against the minister rather than an issue about the actual policy," he said.
Mr Johnson said he met former News International chief executive Mrs Brooks when he was running for the deputy leadership of the Labour Party.
He said: "I shook her hand and said 'hello Rachel' and I do not think that went down very well, so it was not a good start."
Mrs Brooks was among six people charged with conspiracy to pervert the course of justice in connection to phone-hacking at the NoW on 15 May.
Dispassionate eye
Earlier, Mr Watson - an outspoken critic of News International (NI) over the phone-hacking scandal - urged other MPs to give their accounts to the inquiry.
Lord Justice Leveson told Mr Watson he did not have "the dispassionate eye" on these matters.
In 2006, Mr Watson quit as a defence minister and called on Tony Blair to stand down as prime minister - a move that hastened his departure from number 10.
Mr Watson told the inquiry into press ethics that a Sun journalist had warned him then-editor Mrs Brooks - a friend and supporter of Mr Blair - would "never forgive you for what you did to Tony".
"I remember it clearly, it was a chilling comment," he said.
'Slipped grievously'
Speaking later on Tuesday afternoon, Lord Smith said changes secured after the death of Diana, Princess of Wales in August 1997 did improve the behaviour of the press but were only effective for a short time.
"There was a palpable change of behaviour but after that two or three year period I think it began to slip.
"As we know from all the evidence that you [the Inquiry] have been receiving it slipped grievously in quite a number of ways.
"I regret that I didn't see properly at the time that this was not enough and we should have pushed further," he said.
Lord Smith added that then chairman of the Press Complaints Commission (PCC), Lord Wakeham, was "remarkably successful" in getting editors to agree to some reforms after the death of Diana but acknowledged that they were "modest".
Lord Smith pressed unsuccessfully for a system of sanctions, a definition of the public interest and a more proactive approach by the PCC.
Meanwhile, MPs have agreed to ask one of its Commons committees to consider what sanctions should be imposed on three former NI employees who are claimed to have misled Parliament.
The standards and privileges committee will now assess the evidence and may ask former NI chairman Les Hinton, former NI legal manager Tom Krone and former NoW editor Colin Myler to answer further questions.