Jubilee: Prince Charles set to meet Canada chiefs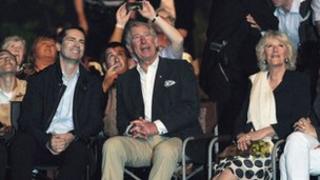 Prince Charles is to take part in a gathering of first nations chiefs as part of his four-day Diamond Jubilee tour of Canada.
The prince will receive a traditional welcome before holding talks with the indigenous leaders.
The Duchess of Cornwall will visit her regiment, the Queen's Own Rifles of Canada, to recognise its distinguished service to the Canadian forces.
Later, the couple will award Diamond Jubilee medals to six Canadians.
The medals - one for each decade of the Queen's reign - will be awarded in Toronto for outstanding contribution and service to the province of Ontario.
During the meeting of the Assembly of First Nations, the national body for Canada's Aboriginal people, Shawn A-in-chut Atleo, its national chief, will give a speech to the invited guests.
A close relationship between the British monarchy and the First Nations people was built up in past centuries when sovereigns and chiefs developed bonds when signing treaties.
The Duchess is the Queen's Own Rifles of Canada colonel-in-chief, her first position with a Commonwealth regiment, and will unveil a portrait of herself that will hang in the officers' mess.
Earlier the couple watched an firework display at Toronto's Ashbridges Bay Park which was held on Victoria Day, the day the Queen's birthday is officially celebrated.