London 2012: Olympics tickets site back online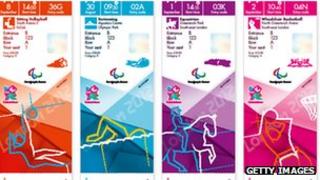 The Olympics ticket website has resumed service after being taken down for "planned maintenance work".
At 11:00 BST on Wednesday, 500,000 tickets for sports such as volleyball, taekwondo and boxing were released.
Locog said the 2012 ticketing site was taken down from 23:00 till about 10:35 BST "to create print files in order to print tickets" from Wednesday's sales.
Locog has not yet released sales figures from Wednesday but a spokesman said they had gone well.
Up to four tickets can be purchased per buyer session, and up to four sessions in one transaction for all available sports, apart from football - where more tickets are available to encourage groups to attend.
All tickets have been sold in some sports, including athletics, cycling, equestrianism, rhythmic gymnastics and swimming, as well as the opening and closing ceremonies.
Before Wednesday's ticket release, Locog commercial director Chris Townsend warned it would be a "live sale".
"Like other high-demand events, including pop concerts, we expect the website to be very busy and customers may well be held in queues for over 30 minutes at peak times."
The BBC's Olympics correspondent James Pearce said the the website was originally designed for the first round of ticket releases, which were by ballot and the system was not designed for first-come first-served ticket sales.
Dominic Foster in London told BBC News on Wednesday the application process had been the "easiest so far".
"The website held me for 10 minutes, I bought some tickets and then made another application - both of which were successful."
But other users reported problems with the site, including Londoner Andrew McManus.
He said: "At 11:00 I selected the two events I wanted and was advised that the wait was 10 minutes.
"The first six minutes counted down normally, and then it got stuck at four minutes for an hour."
The online ticketing system sparked criticism last year after it crashed under high demand.
In some cases, the system reportedly informed potential buyers they had secured tickets, and then later told that they had failed.