Operation Elveden: Journalist arrested in payments probe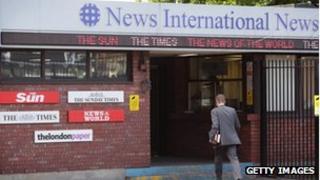 Detectives have arrested another News International journalist in the probe into payments to public officials.
The 37-year-old woman was held at Bromley Police station, south London, on suspicion of conspiracy to corrupt.
The Metropolitan Police said the arrest at 09:00 BST followed information provided by News Corporation's Management and Standards Committee.
The woman was later released on bail pending further inquiries.
The arrest is the 30th in the Operation Elveden inquiry, which is running alongside a probe into phone hacking.
The BBC understands that the woman is a current member of staff at News International, the parent company of the Sun, the Times, the Sunday Times and, before it was closed, the News of the World.
In a statement, Scotland Yard said the woman had been arrested on suspicion of conspiracy to corrupt under the Prevention of Corruption Act 1906; suspicion of conspiracy to cause misconduct in a public office, contrary to Common Law, and suspicion of bribery, contrary to the Bribery Act 2010.
"It relates to suspected payments to a public official and is not about seeking journalists to reveal confidential sources in relation to information that has been obtained legitimately," the statement added.
Scotland Yard's Operation Elveden investigation was set up to look into allegations of inappropriate payments to police and other public officials and it is being supervised by the Independent Police Complaints Commission.
It is linked to Operation Weeting, the investigation into mobile phone hacking by journalists.
News Corporation set up its Management and Standards Committee to conduct internal investigations relating to allegations of wrongdoing at Rupert Murdoch's newspapers.
The MSC says that it is "autonomous" from News International and that it "works to ensure full co-operation with all investigations", including the Leveson Inquiry and Scotland Yard investigations.