Newspaper review: Eurozone and Eurovision dominate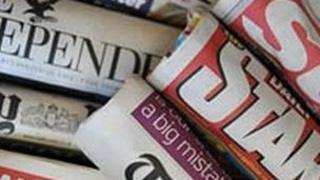 Bad news from the eurozone continues to preoccupy Saturday's newspapers.
The Sun says a Greek exit from the euro could hit the UK economy for £230bn and plunge it even deeper into recession.
The Daily Express talks of the UK taking a battering, while IMF head Christine Lagarde tells the Guardian an "exit" from the crisis will be found.
Home Secretary Theresa May, meanwhile, Theresa May, meanwhile, tells the Daily Telegraph that Greeks and other EU citizens should not think they can move to Britain looking for jobs.
'Cosy familiarity'
The Daily Mail has been combing through what it calls another "huge raft of emails and text messages" between government functionaries and the News Corp lobbyist Frederic Michel.
The Times thinks they make embarrassing reading , full of "cosy familiarity and perks on offer".
The Independent sees significant conversations and close contacts. .
An ex-special advisor tells the Daily Mirror that "government needs to find better ways of talking to business". .
'Europe's kitchest festival'
The Sun sums up our relationship with the Eurovision song contest in the phrase "it's naff but we love it".
The Independent worries that the way Azerbaijan treats those who dare to cry freedom will be hidden by "Europe's kitchest music festival".
A cartoon in the Times shows a man in a music shop asking "do you have Azerbaijan's human rights record?"
The appeal of the show is lost on the Guardian's Simon Hoggart who says he'd sooner watch pro-celebrity badminton.
'Party mad'
The bunting is up and pork pies ordered across the "shire towns", says the Financial Times , as people prepare to celebrate the Queen's Diamond Jubilee.
It says despite a double-dip recession, republicanism seems out of fashion.
Writing in the Mail, Sir Max Hastings concludes that people "yearn for something to feel happy about". .
The Express predicts that "party mad Britons" may spend so much marking the Jubilee, the Olympics and Euro 2012 that they will pull the UK out of recession.