Olympic torch: Flame travels by train and mane in Wales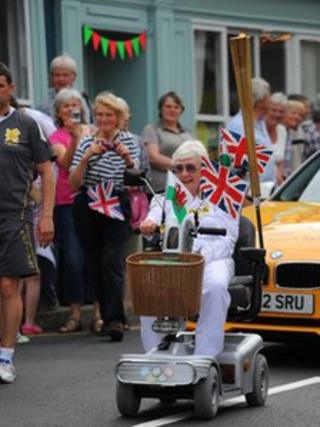 Large crowds turned out in south and mid Wales to see the Olympic torch travel from Swansea to Aberystwyth .
People waving Welsh and Union flags lined the ninth day's route and thousands gathered in Llanelli, Haverfordwest, Carmarthen and Newport.
The torch began the day in Swansea's Bracelet Bay before taking a ride on a train and stopping off at Oystermouth Castle in the town of Mumbles.
It was also carried on a cob horse when the relay visited Aberaeron.
Breeder Eric Davies rode his horse Maesmynach Angerdd, in the Ceredigion town.
During Sunday's 137.6-mile journey, 114 torchbearers were listed to carry the flame, ahead of an evening celebration in Vicarage Fields in Aberystwyth.
Monty Python connection
At Swansea's Bracelet Bay, the flame was carried by the day's first torchbearer, 16-year-old Corey Thomas from Swansea, who was nominated for his work as one of Wales' first Youth Sports Ambassadors.
It was then carried on the Swansea Bay Rider - a 72-seater land train which runs along Swansea promenade from Blackpill to Mumbles - its second train journey in four days. And it stopped off at Oystermouth Castle, which stands on a hill overlooking Swansea Bay in the town of Mumbles.
In Fishguard, Jill Edge carried the torch on a mobility scooter decorated with Olympic rings as well as Welsh and Union flags.
The 64-year-old, who has had Ankylosing Spondylitis - a progressive arthritic condition - since her teens, was given loud cheers from the crowd.
Other torchbearers throughout the day included Paul Adams, 55, from Carmarthen who was nominated for his work with a local cycling group and Clint Middleton, 29, who has cycled 1,061 miles from Bristol to Barcelona, raising £13,000 for charity.
Susanna Ditton, 21, carried the torch in her home town of Aberystwyth. She has overcome spinal problems and bullying but despite that spent six months volunteering in Kenya teaching in an underprivileged school.
She danced her way through the streets, smiling all the way, as people hung out of the windows shouting her name.
Sunday's relay route took in Swansea, Llanelli, Burry Port, Kidwelly, Carmarthen, Haverfordwest, Fishguard, Newport, Cardigan, Sarnau, Brynhoffnant, Llanarth, Aberaeron, Llanon, Llanrhystud and Aberystwyth.
One of the stops during the day was at Kidwelly Castle, which was used as a location for the film Monty Python and the Holy Grail.
Police said about 10,000 people were out early to see the flame leave Swansea then about 20,000 people welcomed the flame in Haverfordwest.
There were more than 6,000 spectators in Fishguard and about 5,000 in Newport.
The flame hit the university town of Aberystwyth at just after 16:30 BST.
The final torchbearer of the day, Kyle Thomson, 16, was chosen for his efforts as a sports ambassador in school.
Beforehand, his mother Barbara told the BBC she was extremely proud of him.
"It's wonderful to him. To me it's a reward because he's such a nice person and this is a way of showing him he's a lovely boy and it makes us proud."
Kyle admitted: "At the moment I'm quite nervous but am really excited about it."
He carried the flame in Vicarage Fields where he lit a cauldron at an evening celebration, with performances by rock band Kids in Glass Houses, dance act Twist and Pulse and a 70-strong choir.
A total of 8,000 people will carry the flame on its 8,000 mile, 70-day journey around the UK to the opening ceremony of the Olympic Games on 27 July.