'Charismatic' Royal Welsh officer Capt Stephen Healey killed in Afghanistan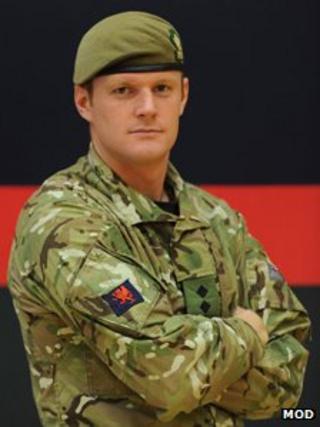 Tributes have been paid to a "charismatic" Royal Welsh officer, killed when his vehicle was blown up by a bomb in Afghanistan.
Capt Stephen Healey, 29, from Cardiff, was an apprentice at Swansea City football club before he joined the Army.
Capt Healey died on patrol in Helmand province.
In February this year, he walked blindfold from Chester to Llandudno to raise money for blind service veterans.
He joined the Army in 2007, before being commissioned into the 1st Battalion, The Royal Welsh (The Royal Welch Fusiliers) a year later.
Prior to that, had been a promising footballer, playing semi-professionally for a number of clubs in the south Wales area.
He had an apprenticeship with Swansea City and was with the club for a couple of years, where he played at centre back.
But his footballing career was cut short after he suffered a number of injuries.
He then decided to go to university and even though he did not have any A levels, he was accepted by Swansea University because of his experience.
Capt Healey served a number of tours as a soldier, and in 2009 was mentioned in dispatches for his actions during a deployment to Afghanistan.
In 2010 he spoke about how he survived after the vehicle he was in was hit by an improvised explosive device or IED, with the force of the blast snapping a couple of the machine guns in half.
Last year, he was selected to lead a platoon on the tour in Helmand province.
Earlier this year, Capt Healey also organised a charity event, raising money by walking blindfolded from the barracks in Chester to Llandudno, Conwy.
Capt Healey leaves behind his father John, mother Kerry, brother Simon and girlfriend Thea.
His family said: "Stephen was all you could wish for in a son, brother, uncle and friend. He will be sadly missed by us all. He managed to do more in his 30 years than most people do in a lifetime".
His girlfriend, Thea, paid her own tribute. She said: "Stephen will always be in my heart.
"I will miss him so much, he was my love, my life and my everything. Now he rests in peace, he was living the life he wanted to do with his men".
His commanding officer Lieutenant Colonel Stephen Webb MC, said he would be remembered "as one of the most charismatic and professional leaders any of us will have had the privilege of serving with."
"He was a brilliant Army Officer and a truly outstanding individual."
'Extremely popular'
He said of his work for charity that it was typical of Capt Healey, saying he was generous of spirit and genuinely compassionate.
Swansea City said it was "saddened" to hear of Capt Healey's death, and offered its condolences to his family and friends.
Prof James Watkins, who was Swansea University's heath of sports science in 2005, said he and his colleagues were "incredibly sad" to hear of Capt Healey's death.
He said: "Stephen was a credit to the university, an excellent student who worked hard and was extremely popular with both students and staff.
"Stephen represented the university football team between 2002-2005 and was an active participant in student life.
"He will always be remembered for the significant contributions he made to the university in both his academic studies and in sport."