London 2012: Road cycling tickets go on sale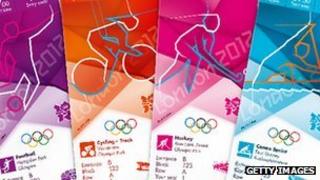 More tickets for road cycling events at the London Olympics are on sale, organiser Locog says.
Tickets are available for Box Hill in Surrey - where the road races can be viewed - and Hampton Court Palace, for the time trials.
Tickets priced from £5 to £15 are available on a first come, first served basis until they are sold out.
Box Hill is a special conservation area, but Locog said it was working to minimise the impact on wildlife.
The decision to charge for the 15,000 tickets being allocated to the prime viewing point has angered some local people, including local councillors, who say any profits from the event should go to ensuring the Olympics leave a legacy for the area.
Tickets providing access to The Hill and the big screen at Wimbledon - where the Olympic tennis events are being held - are also on sale, as well as tickets for the Orbit sculpture on the Olympic Park, Locog said.
The Orbit, which is between the Olympic Stadium and the Aquatics Centre, will give visitors a view of the entire park and across London's skyline.
BBC's Olympics correspondent James Pearce said he had been "inundated" by reports from people complaining that the London 2012 website was not working.
But the organisers said the problem had been resolved.
A London 2012 spokesperson said: "The sheer volume of demand meant that we managed transactions slowly in the first 20 minutes. However transactions now flowing through in their thousands."
Our correspondent tweeted that the site was meant to cope with 250,000 transactions an hour .
Unsold tickets
Visitors will be able to take a trip up the structure in a lift and have the option of walking down the spiral staircase.
Tickets for the Orbit are available only to those who have Olympic Park tickets or tickets for an event in the park, and only for the day they are due to visit, Locog said.
On Friday, the BBC reported that about 300,000 Olympics tickets that went on sale earlier this month remain unsold.
That is out of 928,000 put on general sale earlier this month and are in addition to the more than one million football tickets which remain unsold so far.
All tickets have been sold in some sports, including athletics, track cycling, equestrianism, rhythmic gymnastics and swimming.
The opening and closing ceremonies are also fully sold out.
But tickets are still available for sports including boxing, basketball, beach volleyball, weightlifting and football.