Angelina Jolie backs UK anti-rape scheme in war zones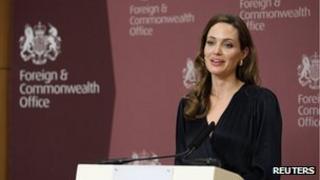 The government has launched an initiative aimed at tackling sexual violence in war zones across the world.
It is hoped the scheme, which is backed by actress Angelina Jolie, will mean more perpetrators of sexual violence can be pursued in international courts.
UK experts will be trained to deploy at short notice to gather evidence in conflict-hit areas, under the scheme.
Rape is often used as a tactic of war against men, women and children in conflicts across the globe.
The team of experts will be selected from professions including the police, psychologists, doctors, lawyers, and forensic experts.
Apart from gathering evidence, they will mentor international organisations fighting sexual violence, and help to draft effective legislation.
'Horrifying reports'
An audience of public figures and human rights campaigners gathered for the launch of the scheme, at the Foreign Office in London.
Actress Angelina Jolie, a special envoy for the United Nations' High Commissioner on Refugees, spoke at the launch, before a screening of her new film, In the Land Of Blood and Honey - a love story set in the 1992-95 Bosnian war.
She said she was honoured to be part of the initiative: "Improved cooperation between countries and international leadership like we are seeing today is crucial to bringing justice and ending impunity.
"I am so very grateful, I am so happy to be a part of it," she said.
"Throughout history, rape and sexual violence have been used as weapons of war. And in modern warfare, as women and girls have become primary targets, the problem has grown tremendously.
"The wars in Rwanda and Bosnia brought the issue to the world stage, and afterwards the international community took significant steps to end impunity for the worst atrocities and to combat sexual violence in conflict.
"But although progress has been made, there is so much that needs to be done."
Foreign Secretary William Hague said Britain's "influence and diplomatic network" would be used to push the issue of sexual violence in armed conflict up the global agenda.
Mr Hague said it was vital to combat sexual war crimes of the kind seen in the former Yugoslavia, Rwanda, central Africa - and now in Syria.
"I was shocked when I learnt that only around 30 people have been convicted so far for the up to 50,000 rapes committed during the war in Bosnia in the 1990s. And there are chilling reports of rape in Syria today, along with the murder, torture and repression of thousands of innocent civilians," he said.
BBC world affairs correspondent Mike Wooldridge said that while sexual violence was frequently used as a weapon of war, conviction rates were still too low.
Countries such as the Democratic Republic of Congo will be the project's biggest concern, he said.
Around 200,000 women of all ages were raped during the war in Congo, which ended in 2003.
In 2010 alone, 8,000 women and girls were raped due to continuing violence in the country.
The British government said it would use the UK presidency of the G8 in 2013 to promote a global approach to tackling sexual violence in war-torn countries and bringing perpetrators to the courts.