Politicians at play: Chilled or lax?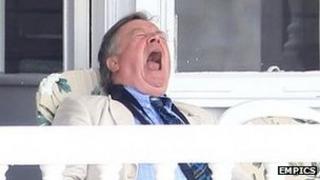 We're in the middle of a eurozone crisis. The economy is in recession. There are precious few jobs around. And until the past few days the weather had been utterly dreadful.
So in that sort of climate do we really want to see ministers taking it easy, yawning in the sunshine, feet up, enjoying the cricket as Ken Clarke was at Trent Bridge this week?
One irritated Tory MP, on seeing the pictures of Ken Clarke at the cricket muttered disapprovingly to me: "Typical Ken. Its the middle of the working week. He's meant to be at work."
But should we really get that upset about our political leaders "chillaxing"?
David Cameron got a media bashing the other weekend when it was disclosed he liked to chillax at Chequers with a few glasses of wine at lunchtime, the odd bout of tennis against some ball machine called the Clegger, a game of snooker, a karaoke session and watching DVDs of Scandinavian crime drama The Killing, with wife Samantha.
It has also been said that he spends hours playing computer game Fruit Ninja.
However, there's nothing new about prime ministers taking time off from the remorseless grind of politics.
Labour's Clement Attlee, like Ken Clarke, was another cricket obsessive and no one thought that affected his attitude to work. In fact Labour's arguably greatest leader only allowed a ticker tape machine inside Downing Street so that he could keep across the latest cricket scores.
John Major was another PM who used cricket as a form of escape from the political hurly burly. Hence having lost the 1997 general election, by a thumping landslide, what did he do? He didn't sit around moping or feeling resentful towards the electorate. He headed off to the Oval to watch the cricket.
Edward Heath had his boats and music. Tony Blair used to strum away on his acoustic guitar. Alec Douglas Home liked flower arranging. Winston Churchill enjoyed painting watercolours, bricklaying and drinking fairly copious amounts of alcohol (and he still found the time to defeat the Nazis!).
Running seems to be a particularly favourite way for senior politicians to unwind a bit.
Culture Secretary Jeremy Hunt has clearly found pounding the pavements around his London home a useful way to put to one side his looming appearance before the Leveson Inquiry later this week.
David Cameron was summoned to the treadmill at Camp David by Barack Obama. George Osborne enjoys an early morning plod around the parks of London. And Ed Miliband is also known to don trainers for a little light jogging (although one aide suggested he didn't actually find running that relaxing).
Indeed it is perhaps a sad commentary on the state of modern politics that if you ask many senior politicians or aides what they do to relax you will be met by a shifty, non answer. Or they will simply say they like to spend time with their family.
Somehow one is left with the sense that politicians feel it potentially politically damaging to admit to "chillaxing" or that they might have a life outside of politics - in short that the electorate will disapprove if their politicians aren't permanently at the grindstone.
My sense is that Ken Clarke probably did himself and his standing with voters a power of good by taking time to enjoy the cricket.
After all, there really is more to life than politics.