Leveson Inquiry: Blair intruder case referred to prosecutors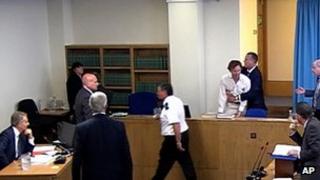 Lord Justice Leveson is to refer to the Director of Public Prosecutions the matter of a protester who interrupted Tony Blair's appearance at his inquiry.
The judge said Keir Starmer and the Metropolitan Police would "decide the way in which the matter can be dealt with appropriately".
David Lawley Wakelin burst into the inquiry on Monday and accused Mr Blair of being a war criminal.
Lord Justice Leveson said steps had since been taken to boost security.
Mr Lawley Wakelin, who made a film called The Alternative Iraq Enquiry, brought proceedings in Court 73 of the Royal Courts of Justice to a halt.
He was eventually wrestled to the ground by three men and ejected from the court room but not before demanding that Mr Blair be arrested for war crimes.
Police arrested Mr Lawley Wakelin on suspicion of breach of the peace but later released him without charge.
'Without disruption'
Lord Justice Leveson immediately ordered an inquiry on Monday into how the man had been able to breach court security.
Reporting back on Tuesday afternoon, he said that investigation had been completed and "appropriate measures to prevent any risk of repetition have been taken".
He continued: "It is of critical importance that witnesses can give evidence without disruption of any sort and in those circumstances I am today referring this incident to the Director of Public Prosecutions and the Crown Prosecution Service who, in conjunction with the Metropolitan Police Service, can decide the way in which the matter can be dealt with appropriately."
In an interview with radio station LBC 97.3 FM, Mr Lawley Wakelin said it was "surprisingly easy" to get into the court.
"I just went... up the back stairs and found that there was no security at all and in fact the door to the court was wide open in the same way that Lord Leveson himself would have got in there.
He said police asked him to stay away from the rest of the Leveson Inquiry and he intended to obey that order.