London 2012: 'Largest peace-time catering operation'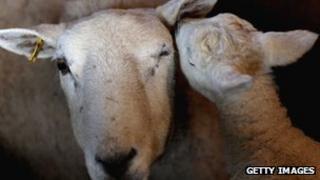 More than 14m meals will be served in 40 locations during London 2012 in what organisers say will be the world's largest peace-time catering operation.
The 15,000 athletes will be able to choose from 1,300 different dishes, and will consume a total of 1.2m meals throughout the Games.
On London 2012's busiest day, athletes will eat some 65,000 meals.
Spectators, meanwhile, will have a selection of 150 "best of British" dishes from 800 outlets.
The food will reflect Britain's multicultural mix, from Italian dishes to Indian curries, and from seafood to classic dishes like pie and mash.
Local specialities will be represented, such as lamb from Wales and charcuterie from Perthshire.
Also on the menu will be sourdough bread from Tower Hamlets, made in a traditional brick oven lined with peat from the Thames.
'Feed family for £40'
Locog Chief Executive Paul Deighton said food and drink would be a central part of making those attending London 2012 as fantastic an experience as possible.
"We believe that our prices are more than comparable to those found at other major sporting events which because of their temporary nature are often more expensive than the high street," he said.
Organisers Locog say the food is affordable, with food and drinks for a family of four costing less than £40.
All produce has been sourced to high environmental, ethical and animal welfare standards, add Locog.
The athletes' main dining room will have a 5,000 seating capacity - the equivalent of 880 double-decker buses.
Once complete, it will be split into four zones that will offer British, European, Mediterranean, African and Caribbean dishes.
Special diets such as Halal, Kosher, low salt and allergens will all be catered for.
Details of catering for the athletes come after controversy over Olympics sponsor McDonalds building its biggest restaurant on the Olympic Park - a move criticised by some, including boxer Amir Khan.