Newspaper review: Papers angry over planned doctors' strike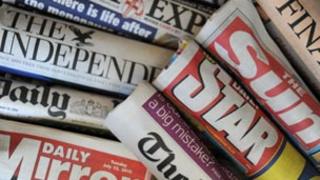 The papers are busy debating a planned day of industrial action by doctors in June - and the reaction is particularly angry.
In the words of the Daily Mail, it is "disreputable, shabby and just plain wrong."
"Doctor, doctor: why is my GP going on strike?" asks the Independent's front page. The answer, it says: "because a £53,000-a-year pension isn't enough."
Meanwhile, the doctors' union has written an open letter in several papers defending the move - the Daily Express accuses it of "breathtaking arrogance."
Culture Secretary Jeremy Hunt will be fighting for his political life when he appears before the Leveson Inquiry, according to the Daily Mirror.
Civil servants at Mr Hunt's department are said to have made contingency plans for his possible departure.
The Guardian agrees his career is hanging in the balance.
And the Times says David Cameron's allies blame a senior civil servant for failing to protect the prime minister from similar political peril.
'Total emergency'
Mired in recession, with its banks in freefall, the Guardian says Spain is being touted as the new Greece.
And the Daily Telegraph quotes a stark warning from the former Spanish Prime Minister, Felipe Gonzalez: "We're in a state of total emergency, the worst crisis we have ever lived through."
The Financial Times reports that some investors are now willing to lend to Germany for no return in the rush for a safe haven - one analyst says people may soon be paying the Germans or the Americans to look after their money.
With the Diamond Jubilee weekend upon us, the Times claims to reveal some of the Queen's secrets to longevity.
A former royal chef says she eats four meals a day, but favours small portions, has no truck with diets or potatoes, loves chocolate and enjoys a well-earned gin and Dubonnet before dinner.
And in a book celebrating the Jubilee, Mr Cameron himself describes his weekly audiences with the Queen as crucial, and pays tribute to her "Great British common sense" - according to the Telegraph's front page.