Diamond Jubilee: Anti-monarchists' views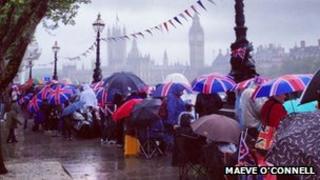 While much of the UK is celebrating the Queen's 60 years on the throne, for people who want Britain to have an elected head of state, the festivities are grating.
Some are making their feelings clear in a protest at the Thames Pageant, while others have decided to leave the country until Jubilee fever has passed.
Anti-monarchist BBC News website readers have been telling us how they are spending their Jubilee long weekend.
Steven Gauge, Caterham
I'll be going to the anti-monarchy protest near Tower Bridge on Sunday. It's high time we had an elected head of state instead of this ridiculous, expensive, out-dated farce.
All around the world, people are standing up for democracy. A politician would be the choice of thousands of people. Nobody got to choose the Queen.
I don't really understand why everyone is so passive and accepting of the monarchy.
I think people turn off their critical faculties when evaluating the monarchy. We just decide that the Queen is lovely without thinking about it.
The question is whether the record of 60 years is something to be genuinely proud of, and whether things would have been different if we had had an elected head of state to drive changes forward.
With all of this uncritical and bizarre coverage, there might be a reasonable turnout at the protest. A lot of people might like to make a point.
Steve Hughes, Scunthorpe
I shall be out of the country to avoid this nonsense. I'm packing now to go on holiday with my wife to Macedonia.
The idea of celebrating the Queen's life of luxury and privilege at our expense makes me want to vomit.
I live abroad, but I've been in Scunthorpe for the past two weeks, looking after my mother. I had a stroll round this morning, and in two hours I saw only two houses with any kind of bunting. There were half a dozen token flags, but that was it.
In the pub last night, six or seven of us at the table were discussing the monarchy, and lots of other people were joining in.
Most were remarking that this celebration is happening at a time of austerity, when a lot of men are losing their jobs in the steel works.
An elderly couple admitted they felt guilty about criticising the monarchy. They felt they were being unpatriotic. I told them they were being nothing of the sort.
I think the media, especially the press, have misjudged the mood. There is a growing undercurrent of anger about this.
Greg Davies, Slough
I'm going to the protest party Republic are holding, in the hope of showing the world that not everyone in the UK is celebrating 60 years of an un-elected figurehead in Britain.
It's good that someone is going to put an alternative case to the media.
After this country has its month-long party, we'll all be in the same position as before. We're being told to just wave a flag at the Queen and everything will be all right.
I've nothing against the Queen personally. It's just a moral issue about having an unelected head of state in the 21st century. How can we be an example to countries ruled by despots in the rest of the world?
Much as I love being British, one of our weaknesses is that we seem to want someone to look up to, and to wave flags at.
I'd rather people worried about more important things than what the Queen is going to be wearing. Sadly I don't think it will ever change - not in my lifetime anyway. But people still have to make a stand.
Ian Stephenson, Consett
For the Diamond Jubilee weekend, I'm hoping to go for a long walk in the country, as far away from this inane foppery as possible.
Failing that, I'll be sat in front of a Danish crime drama. I only hope it will last until the end of Tuesday.
I was 10 when I first had thoughts about politics. I was dragged out to a street in Newcastle to watch a royal procession. I was asked to wave my scarf at a car that rushed past at 30 miles an hour. I thought: "Why am I doing this?" From that point, I became a republican.
I cannot understand why royal privilege exists, why one person is put above another.
The monarchist sentiment certainly exists in some people - and that's fine for them. But it's not the majority. There is an awfully big silent majority who don't care either way. And some, like me, abhor the entire charade.
I just wish it didn't impact on me so much. The BBC has gone massively over the top. If you were living in Denmark where the queen is expected to go out bicycling and shopping for hot dogs, it wouldn't be such a problem. But it's this country, with this institution, with this media - it's a problem.
Dr Aled Llion Jones, y Felinheli, Gwynedd
Despite the claims that bunting is being put out all across the UK, a word or two might be said for the towns and villages where this is not the case.
In my part of Wales the bunting is white, red and green - not for the Jubilee but for a cause of far more jubilation, the Urdd Eisteddfod, the annual Welsh-language festival of youth culture.
Let us not pretend that the government-sponsored, over-hyped and over-centralised royal jamboree is by any means universally supported in Britain; the institutional support leads to an easy simplification of the more interesting speckled nature of our island's culture. Our identities are in danger of being homogenised.
In insisting on one voice the result can only be the drowning of the minority, an outcome of no ultimate benefit for any but the most obtuse cultural imperialists.
The torch relay recently came through, and I think there is a degree of, if not ill will, then suspicion.
There is a strong feeling that funds for local events and organisations have been diverted towards London for the Olympics and the Jubilee.
Interviews by Matt Hewitt
See all the latest Diamond Jubilee news and features at bbc.co.uk/diamondjubilee