Diamond Jubilee: Passengers pack trains to London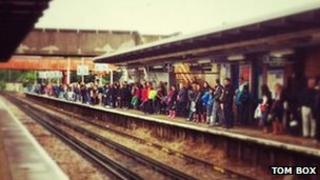 Trains into London have been affected by overcrowding, with some people heading to the Jubilee pageant left on platforms because carriages were full.
Chiltern's first Birmingham service to Marylebone was full and at least 50 people were left on platforms at Dorridge, Warwick and Leamington Spa.
Power supply problems on London Overground led to trains being cancelled from Richmond to Barking.
Travellers are being warned to allow extra time for their journeys.
Twitter complaints
Mike Ormerod, of travel news service Inrix, said: "The main problem isn't engineering, it's just been the amount of people.
"We've had a lot of services full from Birmingham and Rugby and on east coast services coming through Peterborough.
"It's a normal Sunday service, and a lot of people are trying to get into the capital for the pageant."
First Capital Connect's first Peterborough to London was not scheduled until 0846 and then was delayed by over-running engineering works.
BBC political reporter Sian Grzeszczyk reported: "Lots of disappointed people who can't get on packed trains to the capital. I'm on the first train to leave Birmingham this morning, there's been at least 50+ people left on each of the platforms at Dorridge, Warwick, and Leamington Spa.
"Some very unhappy people wearing red white and blue left behind hoping they'll be able to get on the next train. Should more trains have been put on today?"
Chiltern said extra trains would be made available for return journeys, terminating at Banbury and Bicester in Oxfordshire, and returning passengers would be told at Marylebone which train they should catch.
Other passengers took to Twitter to voice their complaints, especially over the fact rail companies were operating a Sunday service
Emma Bradley tweeted: "SW Trains really should have thought this through. Children literally crying cos can't get on the train at Norbiton, New Malden etc."
Kris Temple tweeted: "A Jubilee mare from @SW-Trains - normal Sunday service, standing room only."
Jeremy Bellamy, a Conservative councillor from Canterbury, said: "Amazed that South Eastern trains seem to have been taken by surprise by the Jubilee weekend."
Evening rush
A spokesman for the Association of Train Operating Companies said: "Train companies have been running extra services today and adding carriages at the busiest times of the day to get people to and from the celebrations as quickly and easily as possible.
"But of course we apologise in instances where trains have been very busy and passengers haven't got the service that they expect."
London's Tube network has been running normally, apart from some minor delays on the District line. Delays are expected around interchanges such as Euston and London Bridge.
London Overground services have been suspended because of power supply problems.
The southern exit on the newly reopened Blackfriars station has been closed and blocked due to safety issues, and is not expected to open before the end of the afternoon.
Mr Ormerod said the trains had fewer carriages than on a weekday due to the Sunday service, and that may have contributed to the problems.
Trains are also expected to be full this evening, as day trippers return home.