Newspaper review: Diamond Jubilee pageant celebrated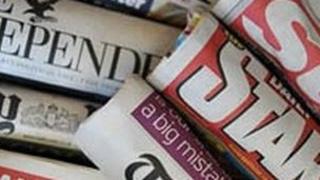 The Diamond Jubilee pageant on the River Thames was a triumph despite the weather, concludes the newspapers' special pull-outs, souvenir editions and posters.
"It's a royal washout," says the Guardian, but "enthrallingly good natured" with "proud, generous crowds".
The Sun's headline writers capture the mood with: "drip drip, hooray: nation celebrates a reign, in the rain".
But the paper's message is serious - the Queen's popularity, it concludes, is at an all-time high.
'Fresh heirs'
The Daily Mirror focuses on what it calls "the new wave" - the Duke and Duchess of Cambridge, and Prince Harry.
They are, in the paper's words, the "fresh heirs", the young royals who were "a hit with crowds of all ages".
The Times tells us Britons strung 2,000 miles of bunting, drank two million bottles of champagne, and served lunch to two million of their compatriots.
The Daily Telegraph asks if there has even been a more "robust", "determined" or "stubborn" display of support.
Wind farms
The Independent reports on a survey saying 70% of people back more wind farms being built in the countryside.
Its environment editor says whether people loathe the turbines or not, they are the "only game in town" when it comes to sustainable energy sources.
The Daily Mail reports that the Treasury is looking to make cuts in government funding for them.
And the FT notes the reduction in subsidies is being considered amid pressure from scores of Tory MPs.
On the ropes
The Daily Express is among the papers reporting on former Liberal Democrat MP Lembit Opik's wrestling match mauling.
It says the "attention-seeker" was stretchered out of the ring in Powys after a bout with an 18-stone opponent.
One audience member tells the Mail "it was brutal" . Another says: "He's tried so many things - he obviously doesn't have a future in wrestling."
Finally, the Guardian looks to the heavens to preview the transit of Venus on Wednesday - one of six since 1639.