Jubilee concert: Your stories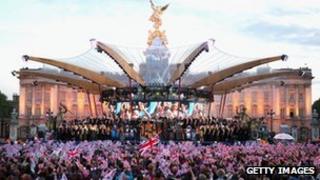 Thousands attended a special Diamond Jubilee picnic and concert at Buckingham Palace on Monday.
Guests were able to wander the palace grounds for their lunch, a hamper created by chef Heston Blumenthal. The 12,000 ticket holders then joined the Queen and the Royal Family to watch performances by Robbie Williams, Kylie Minogue and Sir Elton John outside the Palace, while more crowds thronged the Mall to watch the event on big screens.
Here, BBC News website readers who attended the concert describe their day at the Palace.
Margaret Bywater, Rochdale
The concert was amazing. My husband Roy and I had brilliant seats right in front of the Royal Box. It was our 38th wedding anniversary on Friday. Then we had my brother's 60th birthday, and on Tuesday we go to Spain, so it has been an extra special week really. We were just really lucky.
We thought we'd have to queue when we arrived at the Palace but they opened up a second gate, so we were in really fast. The security was really good, much quicker than at an airport.
Robbie Williams was my favourite act, he really opened things up well, and we were all singing. Stevie Wonder was also good, as was Tom Jones. Everybody was singing Delilah.
I also really liked the light show on the Palace. They did all sorts with the lights.
At one point, when Madness were playing on the roof, they had these images of streets projected onto the palace, and then they would fall away and you could see people partying inside. I don't know how they did it, but that was amazing.
Mark Watters, London
I was at the concert and picnic today. On Sunday, I had an exciting day as I was fortunate to have been given a place for my boat - a two man rowboat in the man-powered section - in the Diamond Jubilee Pageant .
When we came towards the Royal Barge, I said to the Queen: "Congratulations Your Majesty, and thank you for 60 years of service to the nation."
I was born in South Africa which is part of the Commonwealth, and I am very proud of the Queen's achievements. I think people don't appreciate the Queen as much as they should in this country.
The concert was spectacular. I really can't find the right words to describe just how incredible it was. It was simply awe-inspiring.
I've been to a lot of concerts and this was by far the best. The setting was done perfectly and the performances were brilliant. The artists did a great job.
I cycle past the traffic island near Buckingham Palace on my way to work each day. To see it transformed into an area where thousands of people enjoyed an event together was remarkable.
The day was very relaxed to start with. Everyone was on their best behaviour. It was all very British.
The picnic was probably my highlight. It was just such a privilege to be there. We were made to feel welcome and Prince Edward even spoke to my wife.
The hamper was very British and the portions just right. I had the one with coronation chicken, smoked salmon, English cheeses and cupcakes.
The highlight of the concert for me was the performance by Madness. It completely shocked me that they performed on the roof of Buckingham Palace. It was electrifying.
Russell Francis, Lancashire
I can't describe how amazing today was. We've had the best day ever and the best weekend ever. We're never, ever going to forget this.
It is so hard to pinpoint the best part. Everyone was great. It was particularly good though when the Queen arrived at the concert. People stood up and the atmosphere was fantastic.
My partner Martin and I got to shake hands with Princesses Beatrice and Eugenie at the picnic.
There was a little bit of rain, but it really didn't matter.
I'm a massive fan of Kylie Minogue and that was my favourite performance.
All the artists performed well though - Elton John, Tom Jones, Paul McCartney - they were all just brilliant. The atmosphere was out of this world.
I don't think we'll be able to sleep tonight.
We're going back to Lancashire with so many happy memories.
More comments
Although we are over 2,000 miles away, and experiencing terrible economic problems, this night was a real treat. An amazing concert, which made me feel really homesick! Lorraine in Corfu, Greece
Awesome. By far and away the best concert I have ever attended. Extremely well organised, great atmosphere, amazing musicians, great presenters. What an amazing experience. Adrian Penn from Berkshire
Interviews by Catherine Ellis and Priya Shah