Let crime victims track cases online, says IPPR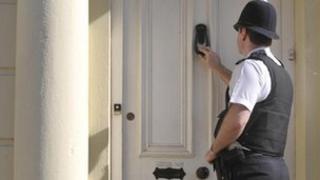 Victims of crime in England and Wales should be able to track the progress of their cases online, a think-tank says.
The Institute for Public Policy Research argues in its report that more information should be made available.
It wants updates on investigations, arrests, court appearances and prison sentences made accessible via people's mobile phones or a secure website.
A survey last year by Victim Support found more than half of victims who reported incidents did not get updates.
The IPPR report says the lack of information has had a "direct impact" on confidence in the criminal justice system.
'Transparency'
It calls for details of crimes to be made available online as soon as they are reported to police and for court transcripts to be uploaded - subject to legal safeguards.
Other recommendations include:
Courts and the Crown Prosecution Service working with local police to ensure data is shared
Making crime maps interactive, displaying real-time information to help prevent and reduce crime
Referring victims to online support networks
Making courts more accessible and transparent by publishing details online of the cases they are dealing with
The report concludes: "The effectiveness of the criminal justice system depends crucially on the public's confidence in it.
"Given that so much of that confidence is linked to information and communication technology, this potentially enables us to develop a more transparent, accessible and responsive criminal justice system with victims at its heart."
BBC home affairs correspondent Danny Shaw says several police forces have already developed the idea.
Last year, Avon and Somerset police set up a website called TrackMyCrime, allowing people to follow the progress of their cases.
At the time, deputy chief constable Rob Beckley said: "We've introduced TrackMyCrime to keep victims informed about the status of their crime in a more streamlined and efficient way.
"It combines policing with modern technology and gives victims more choice about how they want to receive information from us."
The force said it hoped the systems would save officers time by reducing the need to call the public back.
The system automatically updates as police enter information on their computers, with emergency 999 call handlers offering the service when they ring.
Meanwhile, the UK Supreme Court - which is the final court of appeal for civil cases - now publishes details online of all its cases and the judgments reached.