Newspaper review: Jubilee concert gets glowing reviews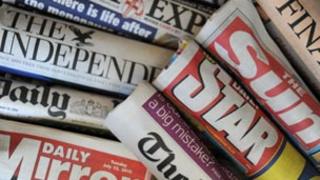 The Diamond Jubilee concert and Duke of Edinburgh's bladder infection - which led him to miss it - dominate coverage.
Alison Phillips in the Daily Mirror says it was heartbreaking to see the Queen without her consort.
Her attendance was a "remarkable tribute to devotion to duty", she says. The concert was a "party for one", according to the Times.
The Daily Express, meanwhile, believes the Duke's indisposition added a note of poignancy to the event.
Antibiotics
Why was the Duke left to shiver in the rain for four hours on the royal barge on Sunday?, asks the Daily Mail.
The Daily Telegraph's doctor says his infection could have been brought on by the pageant, noting he was not once seen drinking, or going to the toilet.
The Mirror's doctor says Prince Philip could be discharged within 24 to 48 hours if antibiotics work.
Dr Mark Porter in the Times agrees the outlook is excellent as urinary infections usually respond to treatment.
'Sniffy'
The reviews of the Buckingham Palace concert are glowing. "Britain rocked last night," says the Daily Star.
But did the Queen enjoy it? By way of answer, the Guardian's cartoonist has an oversized guardsman stuffing his fingers into the Queen's ears.
A night in the presence of Cheryl Cole, sniffs the Telegraph, "is unlikely to make her top 10 royal engagements".
The Independent says that apart from the Queen, the star of the night was concert organiser Gary Barlow.
'Severe blow'
Conservative Party co-chairman Lady Warsi is "desperately clinging" to her Cabinet seat, according to the Mirror.
David Cameron has referred her to the adviser on the ministerial code, for failing to declare a business trip.
Her political career has received a "severe blow", says the Guardian.
Finally, three Chinese women appear on the front of the Financial Times, which says 180,000 people held a vigil in Hong Kong to mark the 23rd anniversary of the Tiananmen Square massacre.