Olympic torch: Comedian Kielty carries torch in hometown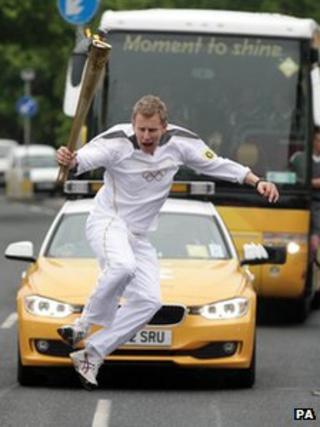 Irish comedian Patrick Kielty was greeted by cheers as he carried the Olympic torch on day 20 of the relay as it travels from Newcastle to Stranraer .
Kielty, 41, posed for photographs with the crowds after running with the flame through his hometown of Dundrum.
Former Blue Peter presenter Zoe Salmon and Olympic hockey gold medallist Stephen Martin also carried the flame on the 118-mile route.
The flame was also taken by boat across Lough Neagh to Ballyronan Harbour.
The relay ended the day with a ferry trip from Larne to Stranraer where it stayed overnight, ready to begin the Scottish leg of the relay on Friday morning.
Northern Ireland Sports Minister Caral Ni Chuilin said the all-Ireland Torch Relay had "helped us to showcase our beautiful scenery and community spirit, showing that this is an exciting, vibrant place to live, work and play sport".
She said with nine pre-Games Olympic and Paralympic training camps already announced, there would be more opportunities for local communities to be part of the Olympics.
"We can look forward to welcoming many elite Olympians and Paralympians to these shores," she said. "This will help to raise the profile of the sports and facilities we have on offer and I hope will inspire our local athletes of tomorrow."
Thursday's journey, aided by 67 torchbearers, began at of the foot of the Slieve Donard mountain and was to take in Clough, Downpatrick, Crossgar, Saintfield, Ballynahinch, Templepatrick, Antrim, Ballyronan, Magherafe, Ballymena and Moorfields.
Kielty was thrilled by his participation in the relay, whipping up the crowds as he ran and performing a mid-air heel kick - a moment he explained by saying "someone bet me I wouldn't do that" - as well as running over to give his mum a kiss.
The comic was "almost overcome" with emotion at carrying the torch and revealed that some words of encouragement had intensified the feeling.
"The minute the torch was put in my hand someone whispered in my ear 'You're doing Dundrum proud and your dad would have been very proud, off you go'," he said.
After lunch, the flame was carried on board a rigid inflatable boat across Lough Neagh, the largest freshwater lake in the British Isles, accompanied by a flotilla of boats as it made its way from Antrim Harbour to Ballyronan Harbour.
As the relay approached the end of its journey in Northern Ireland, there were touching scenes as the last torchbearer Paul McLister was warmly applauded by the crowds and helped on his way, at one point pushed in his wheelchair by a member of the security team.
McLister, a level one wheelchair basketball coach, was surrounded by well-wishers wanting to take his photo at the end of his stint at Moorfields.
It was the kind of moment that led Mrs Ni Chuilin to congratulate everyone involved in the relay, saying "it's the people, rather than the places, which have made this occasion so special".
She added: "The 400+ local torchbearers have been inspirational - their stories of achievement and overcoming adversity have resonated with us all.
"The events of the past few days have been hugely significant. The All-Ireland Olympic Torch Relay has shown this country at its best, and brought people of all ages, backgrounds and abilities together in celebration.
"The Torch Relay was billed as our moment to shine. Over the past few days the people of this island have united under the Olympic flame, and it has shown us all in a positive light.
"The torch may have moved on, but the Olympic Spirit burns brightly in Ireland - and for that we should all be justifiably proud."
The flame left Northern Ireland at Larne Harbour, taken on to a ferry to Stranraer.
There it was met by Scotland Office minister David Mundell and Shona Robison, the Scottish government's minister for Commonwealth Games and Sport.
Ms Robison said from Cairnryan to Berwick, the relay route around Scotland had been chosen to touch as many people as possible, "taking in the country's most iconic places and showcasing the best of Scotland to an international audience.
"Scotland is already taking part in the Olympics, with eight world class football matches at Hampden and playing host to pre-Games training camps," she said. "With just 50 days to the Games, the torch's arrival is a prime opportunity to put Scotland on a world stage."
A total of 8,000 people will carry the flame during its 8,000 mile, 70-day journey to the opening ceremony of the Olympic Games in London on 27 July.