London 2012: Olympic ticket sales slow as more released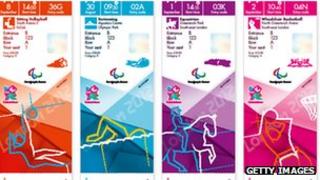 There has been a dramatic slowdown in the sale of tickets for London 2012, the BBC has learned.
Five out of six of the 300,000 Olympics tickets which were available 12 days ago remain unsold.
Many of the unsold tickets are for what were expected to be some of the more popular sports, like beach volleyball and boxing, but priced at the high end.
Olympics organisers say another 300,000 tickets will be put on sale before the Games - including 43,000 on Friday.
That leaves a total of 550,000 contingency tickets - seats that were held back until the venues were finished and broadcast and other spaces confirmed - left to sell.
That is in addition to the 1.25 million football tickets which are still currently available.
The slow speed of sales is surprising, considering the exceptional demand when tickets first went on sale last year.
On Friday, further tickets for the opening and closing ceremonies and six sports will go on sale.
Ceremony tickets start from £995. Tickets for the other sports - athletics, swimming, football at Wembley, volleyball, table tennis and boxing - range from £20 to £720, across 96 sessions.
They go on general sale on Olympics organisers Locog's website at 11:00 BST and can only be bought using a Visa card. Tickets will be available on a first come, first served basis.
Locog says more than eight million tickets have been sold for the Olympics and Paralympics. About three million tickets remain to be sold, for Olympic football, the Paralympics and contingency tickets.
Thursday marks 50 days until the Olympic Games begin. Further contingency tickets will go online during that time, as venues are completed.
Locog's ticketing system has drawn criticism in the past, with its sales website seemingly unable to cope with the demand for tickets.
In some cases, the system reportedly informed potential buyers they had secured tickets, and then later told them that they had failed.