Newspaper review: Papers fear Spanish banks fallout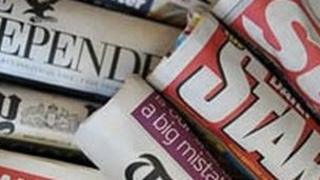 "An extraordinary cry of desperation" is how the Guardian sums up Spain's admission that its banks are in such trouble they will require a bigger cash injection than Madrid can stump up.
The Independent believes it is inevitable that Spain will have to ask for an international bailout.
The Daily Telegraph says there could be calamitous consequences for the UK if Spanish banks start going under.
It advises David Cameron to be robust when he meets the German chancellor.
Forced marriage
Former Labour Foreign Secretary Lord Owen proposes a referendum on the UK's membership of the EU in the Times .
He says German plans for the eurozone are forcing the EU closer to becoming a "single country called Europe".
The lead in the Daily Mail says Home Secretary Theresa May will announce that a specific criminal offence of forced marriage will be created.
This would mean that anyone who tried to compel someone to marry against their wishes could be jailed.
Weather warning
The Daily Telegraph leads with news that millions of people could see their hosepipe bans lifted within weeks after the recent deluge.
That is unless the weather takes what one water company describes as "an unexpected Saharan twist".
The Daily Express forecasts that "70mph gales" are set to "batter Britain".
The paper warns that devastating storms will cause chaos, with torrential downpours and hurricane-force winds from Thursday night.
Wall length
According to the I newspaper, the coalition is planning to target richer pensioners in the hunt for cuts.
It says £5bn worth of benefits will come under scrutiny, including bus passes and winter fuel allowances.
Finally, according to the Times , state archaeologists have declared the Great Wall of China to be 13,137 miles long - more than double the previous estimate.
The figure does however include sections that have long vanished or are visible only to the trained eye.