London 2012: More Olympic tickets released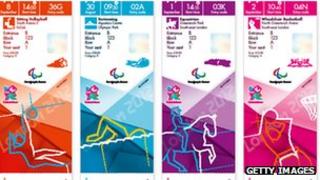 More tickets for some of the Olympics' most popular events have gone on sale on a first come, first served basis.
This batch is made up of 43,000 "contingency tickets", held back until venues and spaces were confirmed.
They are for the opening and closing ceremonies and six sports - athletics, swimming, football at Wembley, volleyball, table tennis and boxing.
Athletics and ceremony tickets have sold quickly since the sale started at 11:00 BST, says the BBC's James Pearce.
He says that the London 2012 website has been working well on Friday, with many people buying the most sought-after tickets without difficulty.
As with other Olympics tickets, the latest batch can only be bought using a Visa card. Prices for the opening or closing ceremony tickets start at £995. Tickets for the six sports range from £20 to £720, across 96 sessions.
However, our correspondent has also reported a recent slowdown in ticket sales, with hundreds of thousands of less popular tickets still to be sold.
Olympics organiser Locog says another 257,000 will be put on sale before the Games.
In all, some 1.25 million football tickets are still available.
Locog says more than eight million tickets have been sold for the Olympics and Paralympics.
Locog's ticketing system has drawn criticism in the past, with its sales website seemingly unable to cope with the demand for tickets.
In some cases, the system reportedly informed potential buyers they had secured tickets, and then later told them that they had failed.
Commenting on Friday's sale, a Locog spokesperson said: "Tens of thousands of tickets have been sold since 11:00 BST to thousands of customers.
"The site is working well and there are no reported issues."