Argentina accused of Falkland Islands 'blockade'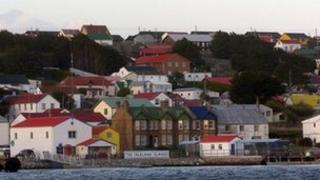 Argentina is trying to impose an "economic blockade" on the Falkland Islands, Foreign Office Minister Jeremy Browne says.
Mr Browne, who is visiting the islands next week, accused Buenos Aires of impeding the development of the tourism in the islands.
Argentina has been turning away cruise ships carrying the British flag.
It has also said oil exploration by five British companies off the islands was "illegal" and "clandestine".
This was a classification that, according to the Argentine government, paves the way for immediate criminal proceedings.
Argentina claims sovereignty over the islands it calls the Malvinas, and wants the UK to negotiate over its rule, but the British government says it will not discuss the issue without the agreement of the Falkland islanders.
Mr Browne said he was disappointed at the Argentine government's recent actions over cruise ships and British oil companies.
'Vulnerable population'
He said Argentina was a country "with a population of about 40 million people, seeking to put an economic blockade in place which will... impoverish an isolated community with about 3,000 people."
Mr Browne went on to say: "Which party in this arrangement are behaving in a domineering way and who are the vulnerable population who are having to make their way in the world, despite a much more powerful country going out of their way to make that harder for them?
"I think that it's pretty clear cut."
Mr Browne's comments come ahead of the 30th anniversary of the liberation of the Falkland Islands, on 14 June. He is due to travel to the islands to attend the annual liberation service on that date.
Last year, Argentine President Cristina Fernandez accused Prime Minister David Cameron of "mediocrity bordering on stupidity" when the UK prime minister said the islands should remain a British territory if that was what its inhabitants wanted.