Falklands: Minister declines offer of Argentine talks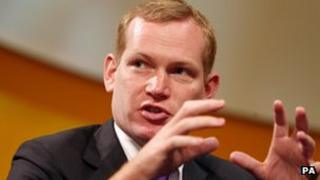 The foreign office minister who accused Argentina of trying to impose an "economic blockade" on the Falkland Islands has turned down an invitation to visit the South American country.
The Foreign Office says Jeremy Browne is "grateful" for the invitation to attend talks in Buenos Aires next week but has a "full schedule".
Mr Browne will visit the Falklands to commemorate 30 years since the war.
Argentina has been turning away cruise ships carrying the British flag.
It is taking legal action against five British oil firms exploring the coast of the islands.
The Argentine government has branded the oil exploration "illegal" and "clandestine".
It is launching criminal proceedings against UK oil firms operating off the Falklands, a move Mr Browne claims is another attempt to hinder the island's economic development.
'Grateful' invitation
A Foreign Office spokeswoman said: "We have received an invitation from Argentina's Foreign Minister, Hector Timmerman, for Mr Browne to visit Buenos Aires next week.
"However, he has a full schedule of events in the Falkland Islands to commemorate the 30th anniversary of the conflict."
She added that the arrangement had been in place for some time, and that Mr Browne was "grateful for the invitation."
"The UK has a longstanding interest in building a stronger partnership with Argentina on a broad range of issues of mutual interest.
"The only issue that we will not discuss is the sovereignty of the Falkland Islands, unless and until the islanders wish us to do so."
Argentina claims sovereignty over the islands it calls the Malvinas, and wants the UK to negotiate over their rule.
Earlier this week, Mr Browne accused Argentina of "domineering" behaviour amid continued tensions between the two countries surrounding the anniversary commemorations.
He said Argentina was a country "with a population of about 40 million people, seeking to put an economic blockade in place which will... impoverish an isolated community with about 3,000 people."
The 30th anniversary of the liberation of the Falkland Islands is on 14 June. Mr Browne is due to travel to the islands to attend the annual liberation service on that date.