UK and Mauritius sign deal to tackle pirates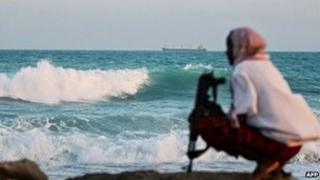 The UK has signed a deal with Mauritius allowing suspected pirates caught by the Royal Navy to be transferred to the Indian Ocean Island for prosecution.
British PM David Cameron met his Mauritian counterpart Navin Ramgoolam in Downing Street on Friday morning.
Mr Cameron said the deal was an important step in the fight against "violent" Somali pirates operating around the Horn of Africa.
Similar agreements already exist with the Seychelles and Tanzania.
"This is an important step forward following the London and Istanbul Conferences on Somalia this year and another sign that countries in the Indian Ocean region are stepping up their efforts against piracy," Mr Cameron said.
"Piracy is a violent crime and pirates should be in no doubt that they will be arrested at sea, prosecuted in regional states and imprisoned."
The Royal Navy and others from around the world operate in areas where ships are vulnerable to attack.
Seafarers and ships are regularly held for ransom, often in atrocious conditions, with crews sometimes tortured to pressure ship-owners to pay up.
Maritime piracy off the Somali coast is estimated to have cost the global shipping industry £3.6bn ($5.6bn) last year alone.
Ransoms have run into the millions of dollars, with ships attacked as far as 1,000 miles (1,600km) from Somalia.