Newspaper review: Spain bank crisis dominate coverage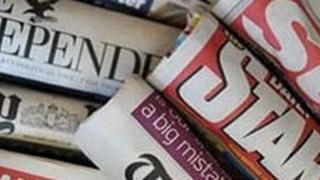 Reaction to the bailout of Spain's banks features prominently in a number of Monday's newspapers.
The Financial Times says it remains uncertain whether the pressure on Spain will be relieved.
And the Guardian quotes Spain's second biggest-selling daily paper, El Mundo, as describing the deal as a "bailout without humiliation".
But analysts are already asking whether 100bn euros will be enough to solve Spain's problems, the Independent says .
Four million callers to HM Revenue and Customs hung up in frustration last year as average waiting times trebled to almost six minutes, The Times says.
Figures obtained under freedom of information legislation show 28% of people gave up midway through their call to the helpline.
And the Daily Mail reports Google and Apple are deploying spy planes to produce detailed area maps.
"Beware the spy in sky," warns the paper's headline.
"Britain Wants Charles As King", states the Daily Express headline accompanying a story that the Prince of Wales is now the "people's choice" to succeed the Queen - ahead of his son, William.
Citing the findings of YouGov poll, it says there had been a "surge" in his popularity because of his role in last week's Diamond Jubilee celebrations.
And the Daily Mirror accuses Spanish football fans of making racist chants.
It says the taunts were aimed at Italian striker Mario Balotelli.
The Daily Telegraph says powers to allow the police and security services to monitor every email, phone call and visit to a website will be announced this week by the home secretary.
Forecasters are predicting that heavy rain will continue for the next month, according to the Mirror .
Similarly, the Express predicts a deluge in much of the UK this week.
One Daily Telegraph correspondent asks: "Is there any chance of a summer heating allowance being introduced?"