Prince Philip to miss Sandringham Jubilee garden party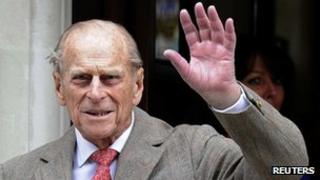 The Duke of Edinburgh will miss a garden party and a trip to the East Midlands as he recovers from a bladder infection that saw him hospitalised.
Buckingham Palace said Prince Philip would not attend a Jubilee garden party at Sandringham, Norfolk, or accompany the Queen to Nottingham on Wednesday.
The Duke was released from hospital on 9 June, a day before his 91st birthday. He had been admitted five days before.
The palace said he was continuing his convalescence at home.
The Duke and Duchess of Cambridge will travel with the Queen on her two-day trip to the East Midlands.
This will include visits to Burghley House near Stamford, Lincolnshire, and to Corby, Northamptonshire.
Prince Philip had appeared to be in good health when he accompanied the Queen on the royal barge, the Spirit of Chartwell, for the Diamond Jubilee river pageant on 3 June.
His admission to hospital meant that he could not join the Queen at the final events to mark her 60 years on the throne, including a concert outside Buckingham Palace and a royal procession and appearance on the palace balcony.
A 41-gun salute by the King's Troop in Hyde Park, and a 62-gun salute by the Honourable Artillery Company at the Tower of London marked the duke's birthday on Sunday.