Newspaper review: Verdicts on 2012 ceremony not kind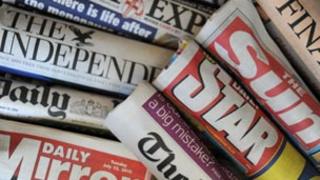 Many of the papers' verdicts on film director Danny Boyle's plans for the London 2012 Olympic Games opening ceremony are not kind.
The Daily Mail , Daily Star and Daily Express compare his vision of rural Britain to the set of the Teletubbies programme.
Where, asks the Independent , are the village children on quad bikes, and the teenagers getting drunk on cider?
But the Guardian ventures that, in Danny Boyle's "confident hands" , the ceremony "may even be moving".
Jeremy Hunt vote
The Daily Telegraph and Guardian agree that the Liberal Democrat decision not to support Jeremy Hunt in a Commons vote has caused a major coalition rift.
The Guardian says Lib Dem leader Nick Clegg has left David Cameron "high and dry" by telling his MPs to abstain.
The Telegraph's front page says the coalition partners are now "at war" .
Both quote a source as saying Mr Clegg was angered by Mr Cameron's decision to rule out an inquiry, minutes after Mr Hunt's Leveson Inquiry evidence.
Hosepipe ban lifted
The Telegraph reports on the decision by three of Britain's biggest water companies - Thames, Anglian and Southern - to lift their hosepipe bans.
It prints the story near a picture of a flooded road snaking through Felpham in West Sussex, in which the houses appear to have been built along a riverbank.
The same image is shown on the front of the Express and the Star .
But the Daily Mirror quotes an amateur meteorologist who says early July will be scorching in south-east England.
Greece and eurozone
The Financial Times accuses Chancellor George Osborne of "stoking up" tension over Greece's possible eurozone exit.
Both the FT and the Times quote him as saying the German government might need a Greek exit, to explain to Germans why they must save the single currency.
Writing in the FT, Syriza leader Alexis Tsipras pledges to keep Greece in the eurozone, boost growth, and distribute the tax burden.
He says continued austerity threatens to force his country out.