Operation Elveden: Three released on bail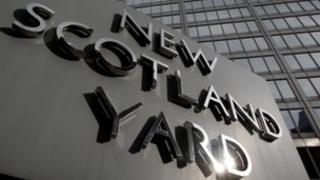 Three people arrested as part of a Met Police investigation into alleged corrupt payments to public officials have been bailed until October.
The Met's Operation Elveden is running alongside a probe into phone hacking.
A Sun journalist, a 40-year old ex-prison officer from Corby, Northants and a 37-year-old woman were arrested on Thursday on suspicion of corruption.
Separately, a serving police officer was arrested on suspicion of passing unauthorised information to the media.
Alleged money laundering
A spokeswoman for News International has refused to confirm the identity of the journalist arrested, but said the person worked for the Sun.
Police said a 31-year-old man arrested in Croydon, south London, was held on suspicion of conspiracy to corrupt and conspiracy to cause misconduct in a public office.
He was questioned at a south London police station.
The former prison officer and 37-year-old woman were both arrested in Corby and questioned at a police station in Northamptonshire.
The former prison officer was asked about alleged misconduct in a public office and money laundering offences, while the woman was questioned on suspicion of aiding and abetting misconduct in a public office and money laundering.
The arrests bring the total made by Operation Elveden to 33.
The Met Police said in a statement that the arrests came after News Corporation's management standards committee provided information.
News Corporation set up its committee to conduct internal investigations relating to allegations of wrongdoing at its newspapers.
Scotland Yard's Operation Elveden investigation was set up to look into allegations of inappropriate payments to police and other public officials.
It is linked to Operation Weeting, the investigation into mobile phone hacking by journalists.
'Unauthorised information'
Meanwhile, officers from the Independent Police Complaints Commission (IPCC) questioned a superintendent with City of London Police on suspicion of misconduct in a public office.
He was arrested after Met officers from Operation Elveden passed information about him to the IPCC.
In a statement, the IPCC said the arrest related "to the alleged passing of unauthorised information to a journalist".
The officer was being held in custody at a London police station.
It has also emerged that Guardian journalist David Leigh will not be prosecuted over his admission that he hacked the voicemail of an arms company executive.
The Crown Prosecution Service said that although the police investigation was not complete, its view was that Mr Leigh should not be charged.
Mr Leigh, the newspaper's investigations executive editor, said he got a "voyeuristic thrill" from listening to the voicemail messages.
He made the admission in an article after former News of the World royal reporter Clive Goodman pleaded guilty in December 2006 to intercepting voicemail messages left on royal aides' phones.