Newspaper review: Jeremy Hunt stays in spotlight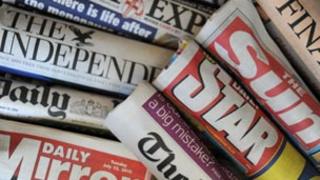 Many of Thursday's papers report on the Commons vote on Jeremy Hunt's handling of News Corp's BSkyB bid.
The Daily Mirror is convinced the culture secretary survived because "Mr Hunt is serving as a human shield for the prime minister".
The Guardian is baffled by the Liberal Democrat refusal to back or vote against Mr Hunt.
No wonder, it says, that much of the UK finds the season sillier when MPs are sitting than on the summer break.
'Sharp stick'
The Independent's Simon Carr says there were sensational scenes in the Commons when Labour MP Chris Bryant accused Jeremy Hunt of lying about the bid.
Mr Bryant writes in the paper that it was an "ugly" word to use but that it was not a time for "beating around the bush".
According to Simon Hoggart in the Guardian, it was "poke Jeremy Hunt with a sharp stick day".
Quentin Letts in the Daily Mail is intrigued that the Speaker allowed the "L" word to be used .
'Drachmageddon' scenario
The Independent worries that the eurozone and Syrian crises are moving towards an almost simultaneous climax.
It imagines what a disorderly Greek exit from the eurozone might mean, describing the nightmare scenario as "Drachmageddon".
But the Guardian reports that for super-rich Greek oligarchs and ship-owners life goes on as normal.
The paper describes one private beach on Spetses, with sand imported from Asia and just a single beach umbrella.
Gastropod heaven
The Daily Telegraph says after drought, flood and hosepipe bans gardeners face an invasion of slugs and snails.
A mild winter and wet summer are said to have provided ideal breeding conditions for the gastropods.
The Daily Express reports that Royal Mail has banned collections from three firms in wet weather because a staff member slipped, breaking his shoulder.
The Daily Mirror says the Doncaster firms have been told to collect mail from the sorting office on rainy days.