London 2012: Olympic tickets resale reopens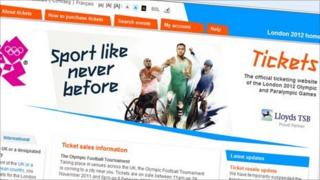 The process of reselling Olympics tickets is open again after it failed to work properly in January.
People with unwanted tickets can now inform organiser Locog via the ticketing website, run by Ticketmaster.
Sellers will only get a refund if a buyer is found for their ticket.
A new batch of about 50,000 tickets to events in the Olympic Park - including 25,000 hockey tickets plus seats for diving, water polo and basketball - are on sale, Locog has said.
The tickets, which are from contingency stocks, have been confirmed now venue seating plans have been finalised and the hockey draw has been made.
Unlike in the original process, tickets will not be offered back for sale immediately but will be held until they can be offered in batches on a sport by sport basis.
Those who already hold physical tickets will be responsible for getting them to the new buyer.
Where tickets have not yet been printed, they will be sent direct to the new purchaser.
Locog's commercial director Chris Townsend said: "For those people who are no longer able to attend, or cannot give their tickets to friends or family, they can now use our resale platform.
"This will enable people to resell their tickets in a safe and legal way."
If a ticket is sold, the ticket-holder will receive an email and then a refund within 10 working days of the sale and the original ticket should go back to Locog.
But if the ticket remains unsold it will be returned to the customer's account, Locog said.
The first resale window, which was designed for people to be able to sell and buy unwanted tickets, opened on 6 January but crashed within hours and was suspended.
Olympics organiser Locog then offered to buy back tickets at face value and reopened the site for that purpose only on 17 January.
The window for people to sell their unwanted Olympics tickets closed on 3 February.
The tickets were put back on sale from 7am on Friday, along with the remaining contingency tickets.
Locog says it expects the process to continue to operate until the Games start.
The Olympics organiser says more than eight million tickets have been sold for the Olympics and Paralympics.
Locog's ticketing system has drawn criticism in the past, with its sales website seemingly unable to cope with the demand for tickets.
In some cases, the system reportedly mistakenly informed potential buyers they had secured tickets, only to then tell them that they had not.