UK soldier killed in Afghanistan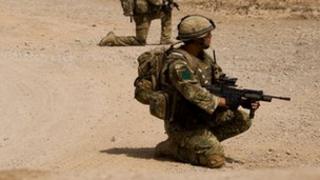 A soldier from 1st Battalion the Royal Anglian Regiment has been killed in Afghanistan.
The Ministry of Defence said he was part of an operation to disrupt insurgent activity in Nad Ali when he was killed by enemy action.
Next-of-kin have been informed of the death, which means 419 UK troops have been killed in Afghanistan since 2001.
A soldier killed on Wednesday has been named as L/Cpl James Ashworth from the 1st Battalion Grenadier Guards.
The spokesman for Task Force Helmand, Maj Ian Lawrence said: "It is with deep sorrow that I must confirm that a soldier from 1st Battalion The Royal Anglian Regiment has been killed by enemy action whilst deployed on operations in the Nad-e Ali district of Helmand Province.
"The thoughts of all within Task Force Helmand are with his family and friends at this difficult time."
L/Cpl James Ashworth, 23, from Kettering, Northamptonshire, was killed in Nahr-e-Saraj District by a grenade as he was trying to protect his men, his commanding officers said.
Lt Col James Bowder, commanding officer, 1st Battalion Grenadier Guards, said he was an "outstanding soldier whose loss has moved us all".