Newspaper review: Greece vote fails to calm papers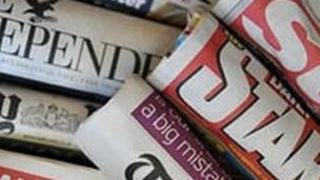 The Daily Mail is one of many papers predicting "days of chaos" in the wake of the Greek elections, as politicians try to cobble together a coalition.
For the Times , the poll failed to clear the smoke fogging Greece's future.
While the Daily Mirror believes the result has left Europe teetering on "a financial cliff edge".
The Guardian thinks the result gives some respite to European leaders working "to avert a meltdown of the single currency".
Doctors criticised
Daily Mail columnist Melanie Phillips is scathing about the prospect of doctors taking industrial action on Thursday in a row over pensions.
She argues they will still receive a lucrative deal, and warns they risk losing the respect and trust of their patients if they go on strike.
Daily Express columnist Leo McKinstry accuses GPs of greed .
The BMA stresses patients will not be put at risk and insists its members were very reluctant to take the action.
Proper treatment
There is plenty of coverage of a report that criticises the lack of help for people suffering from mental illness.
The Times suggests that providing proper treatment could save £10bn a year.
David Clark, professor of experimental psychology at Oxford University, says in the Guardian that many people with mental illness struggle at work.
He says successful treatment restores their productivity which, he argues, is just what the nation needs right now.
Game over
The disqualification of the Argentine tennis player David Nalbandian at Queen's Club in London captures the attention of the headline writers.
The finalist injured a line judge by kicking an advertising board into the man's shin.
"Blood, sweat, jeers" says the Times - referring to the boos from the crowd who were angry that the match was being cut short.
While the Sun's headline is "Maim, set 'n' match" .