Leveson asks for comments over 'quit' claims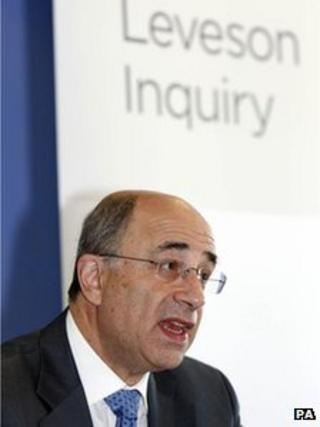 Lord Justice Leveson has asked "core participants" to his inquiry for their comments on a newspaper story which claimed he had threatened to quit.
The Mail on Sunday (MoS) said he had made his threat following comments by Education Secretary Michael Gove.
Lord Justice Leveson told the MoS he would not comment on stories outside the inquiry.
The inquiry into press standards, which is not sitting this week, will deal with the matter on Monday.
The Leveson Inquiry is looking into relationships between the press, politicians and other public figures.
BBC political correspondent Ross Hawkins says it is understood the Leveson Inquiry briefly considered convening a special session this week to deal with the MoS article, but decided against it on grounds of cost.
'Chilling atmosphere'
After the publication of the story, it emerged that Lord Justice Leveson had complained to Cabinet Secretary Sir Jeremy Heywood about Mr Gove's comments, although the suggestion he had threatened to resign was not accurate.
Mr Gove told a press gallery lunch in February that there was "a chilling atmosphere towards freedom of expression which emanates from the debate around Leveson".
There was no response from Lord Justice Leveson to Tuesday's story.
But the inquiry has previously told the MoS: "Lord Justice Leveson is conducting a judicial inquiry and, in that capacity, will not comment on prospective press stories outside the formal proceedings of the inquiry."
Lord Justice Leveson will not be happy with the news of his concerns about the newspaper story coming out via the Guido Fawkes politics blog , our correspondent said.
Core participants must be considered to have potentially played a "direct and significant role" - or have a significant interest - in matters relating to the inquiry or to be potentially subjected to explicit or significant criticism during its proceedings or in its final report.
Those already granted core participant status include media organisations and unions, the Metropolitan Police, former News International chief executive Rebekah Brooks and MPs who were victims of phone hacking by the News of the World.
Summoned to appear
It is not the first time a story focusing on the inquiry in the press or online has caused Lord Justice Leveson to take action.
In November he summoned political blogger Paul Staines, who runs the Guido Fawkes blog, to appear before the inquiry, after he published confidential evidence online.
The evidence included a link to papers submitted to lawyers by former Downing Street communications chief Alastair Campbell. Staines said he had obtained the submission legally.
During his evidence, Mr Campbell admitted sending his evidence to three journalists, lawyers and former political colleagues. The order for Staines to appear was later dropped.
And earlier this year Lord Justice Leveson decided that Daily Mail editor Paul Dacre should return for a second time to resolve a row between his paper and actor Hugh Grant.
Mr Grant claimed an MoS story came from phone hacking but Mr Dacre accused Grant of making "mendacious smears" and repeatedly denied that hacking was the source.