Newspaper review: Hopes over euro rescue plan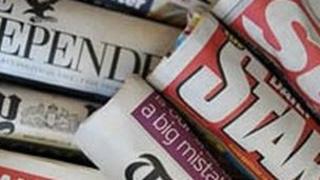 The Times is reporting that Chancellor Merkel is about to put Germany's weight behind efforts to save the euro.
She appears ready, it says, to allow £600bn of European bailout funds to be used to start buying up government debt for the first time.
The Daily Telegraph says the money will not be given directly to governments but will instead be used to purchase debt on the financial markets.
It says it comes after Mrs Merkel came under pressure at the G20 summit.
Bailout
The Guardian says analysts are likely to see it as a first step towards sharing the burden of debt across the 17 members of the single currency.
The paper says it would be the first time EU bailout funds had been used directly to purchase Spanish debt.
It also says there will be concern whether the funds have sufficient firepower to help large economies.
The Daily Express is not impressed, describing it as another sticking plaster, albeit a very expensive one.
Doctors plea
The Daily Mail leads with a claim that a growing number of GPs are ready to defy a call to take industrial action.
The paper makes what it calls a "heart-felt appeal to the finer instincts" of doctors who are still thinking of "abandoning" patients on Thursday.
The Sun also doesn't have any sympathy for the doctors, who it says should think again before downing their stethoscopes.
A pension of £68,000, it says, should be ample for anyone.
Football delight
There are plaudits aplenty for England's footballers after advancing to the quarter final stages of the European Championship.
Many of course single out Wayne Rooney, who returned to the side to head home the winning goal against Ukraine.
Some of them attribute success to the player's hair transplant.
"Thatch the Way to Do It" is the somewhat unsubtle headline in the Daily Mail while front page of the Sun reads simply: "Weave Done It".