Olympic torch: Flame crosses Windermere on steam boat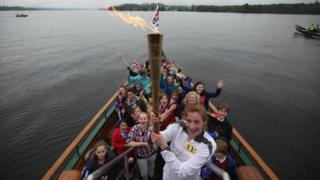 The Olympic flame has been carried on a steam boat on Windermere in the Lake District on day 34 of the torch relay.
It was also taken aboard an open-top bus by a local hockey veteran as it travelled from Dumfries to Bowness-on-Windermere on its 121-mile journey.
The relay started in Dumfries at the Robert Burns Statue, built to honour the famous Scottish poet.
Demelza Powell, 34, who adopted two boys with disabilities, was the day's first torchbearer.
Between Grasmere and Ambleside, the flame was be carried on the open-top bus by Andrew Holden, 71, from Barrow.
He has been playing hockey since the age of 14 and turned out at club and county level, playing in European and World Championships for England in over-60s, over-65s and over-70s categories.
The Olympic flame boarded the steam boat Tern at Waterhead Pier to travel across to Bowness-on-Windermere.
The journey also took the flame through Annan, Eastriggs and Gretna - a favourite with wedding parties - Carlisle, Wigton, Aspatria, Maryport, Flimby, Workington, Whitehaven, Cockermouth, Keswick, Grasmere and Ambleside.
In Annan Chris Moss , 27, carried the flame. Despite losing most of his sight due to illness and being told by neurologists that he would never walk again, he is an active basketball player having joined a team for members with disabilities.
Later, Tom Braithwaite , 16, was accompanied by his dad as he ran through Maryport. Tom has Down's Syndrome and autism and is a member of the Watchtree Wheelers Cycling Centre.
In Cockermouth Michael Park , 47, carried the flame in his home town. As a leader of a mountain rescue team he has worked during the Cockermouth floods in 2009 and the West Cumbria shootings in 2010.
Triathlete Stephanie Booth , 15, carried the flame in Ambleside before taking it on board the Tern steam boat where she was accompanied by choirs of local school children.
She started swimming at seven and from the age of nine represented Cumbria at breaststroke each year, before taking up triathlons.
"I was quite nervous," said Miss Booth. "It was fun and amazing and exciting and everyone was there cheering us on. The fact that it [the torch relay] gets everyone involved is really special."
The final torchbearer of the day was Jan Booth, 23, from Kendal, who lit the cauldron ahead of the evening celebration at The Glebe.
She was nominated for the work she does in her role as county chairwoman of Cumbria Young Farmers Club.
The celebration concert includes performances by Mercury Prize nominee Katy B and indie band British Sea Power.
During the show, streams of colour and light will blaze across the skies above Windermere as part of the start of the London 2012 Festival .
Lakes Alive: On The Night Shift - a combination of a concert and firework display - will begin at around 22:00.
A total of 8,000 people will carry the flame during its 8,000 mile, 70-day journey to the opening ceremony of the Olympic Games in London on 27 July.