Terror suspect 'cannot find wife'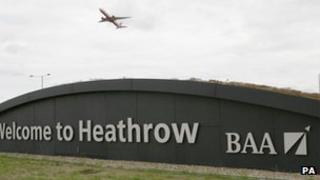 A 24-year-old man suspected of aiding foiled 2006 plane bomb plotters has said government security restrictions are stopping him from finding a wife.
The man, known as AM, was suspected of involvement but never charged.
He is challenging the decision to restrict his movements under the Terrorism Prevention and Investigation Measures Act.
The measures are devastating his life, he told the London's High Court. The government says they are necessary.
Five-year restrictions
The measures are referred to as TPims and replaced the control orders system, which had been used to restrict the movements and contacts of people thought to pose a risk to the public but who cannot be put on trial for security reasons.
Home Office lawyers say AM was thought to have been involved in the 2006 airliner bomb plot in which suicide bombers planned to detonate liquid explosives on various flights from the UK to the US.
AM, who lives in the north of England, said in a statement seen by Mr Justice Mitting that women would not choose a husband under such measures and "nor could I approach another woman's family to this end".
Dan Squires, who appeared for the suspect, said AM had been subject to TPims and control orders for five years, which is the longest for any terror suspect.
"The impact has been devastating," Mr Squires wrote in submissions seen by the court.
"It has come at a critical time in AM's life when someone from his community would have been expected to marry and start a family."
Mr Squires said it had been impossible for AM to do this.
He said there was no proof AM had been involved in any unlawful activity over the last five years. He was due to complete a BA this summer.
'Impossible position'
But he said the home secretary continued to rely on the fact AM had failed to admit past involvement in such acts as evidence the suspect still harboured extremist views.
This put AM in an impossible position and breached rules against self-incrimination, Mr Squires said.
Parliament had said restrictive measures last more than two years were not proportionate.
Home Office lawyers say despite the transatlantic airlines plot being disrupted and arrests made, AM is said to have told an associate in October 2006 he was not compromised and remained willing to conduct an attack in the UK or Pakistan.
Lisa Giovannetti QC, representing the home secretary, submitted he travelled to Oman in April 2007 for purposes connected with terrorism.
She said the notice was a "necessary and proportionate" way to manage the threat he continued to pose to the public.
A Security Service witness told the court it was "not accepted" it was impossible for AM to find a wife while under restrictions.
The hearing continues.