Charles embraces Dalai Lama at informal talks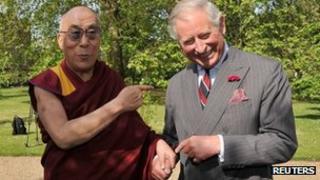 The Prince of Wales has held a friendly, informal meeting with the Dalai Lama for the first time in four years.
Prince Charles and the exiled Tibetan spiritual leader embraced and held hands during their one-hour meeting at Clarence House.
The Dalai Lama, viewed by China as a separatist threat, described Charles as the "best of friends".
The 76-year old is spending 10 days in Britain, as part of a European tour.
Prince Charles, accompanied by the Duchess of Cornwall, greeted the Dalai Lama warmly, placing his hands together in a prayer sign before embracing him.
After a tour of the gardens with Prince Charles, the Dalai Lama told reporters: "I always consider him from my first meeting, a very close, best of friends."
'Good human'
He added: "This gentleman right from the beginning, I felt 'very nice person, good human'," urging him to continue his work.
Clarence House did not release details of their private talks.
Also on Wednesday, the Dalai Lama addressed representatives of different religious groups at Westminster Abbey.
During his speech, the 76-year old urged spiritual leaders to "work together to serve humanity".
"I am quite sure that religions still have an important role to make a better humanity," he added.
On Tuesday, he met with Aung San Suu Kyi, the Burmese opposition leader, who spent two decades under house arrest in Burma.
The two Nobel laureates had never previously met, and talked privately for about 30 minutes in London.
The Dalai Lama had joined campaigns for her release during her detainment.