G4S chief says more policing will go private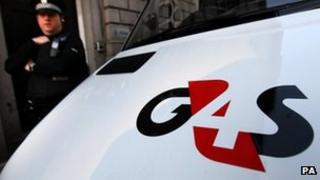 More private companies will be involved in the UK's police service within five years, the British head of security firm G4S has said.
David Taylor-Smith, the head of G4S for Britain and Africa, told the Guardian newspaper he expected more roles to be outsourced to the private sector.
West Midlands and Surrey forces have recently invited bids for contracts from private firms.
The Home Office has said the moves are not a step towards privatised police.
The new contracts could mean private security firms investigating some crimes.
In February, Lincolnshire Police agreed a deal to pay G4S £200m over 10 years to deliver a range of services, including human resources, finance and IT.
Staff will support officers carrying out duties, but will not make arrests.
G4S is providing security for the Olympics. It has more than 650,000 staff working in 125 countries and is one of the world's largest private employers.
"We have been long-term optimistic about the police and short-to-medium-term pessimistic about the police for many years," Mr Taylor-Smith told the paper.
"Our view was, look, we would never try to take away core policing functions from the police but for a number of years it has been absolutely clear as day to us - and to others - that the configuration of the police in the UK is just simply not as effective and as efficient as it could be."
Private 'support'
The G4S chief said "budgetary pressure and political will" were spurs for private sector involvement, but the "public service ethos" was not being lost.
"The thought that everyone in the private sector is primarily motivated by profit and that is why they come to work is just simply not accurate … we employ 675,000 people and they are primarily motivated by pretty much the same as would motivate someone in the public sector."
A Home Office spokesman said: "Policing is not being privatised - core police functions will continue to be delivered by sworn officers and no police powers will be given to private contractors beyond the limited powers allowed by the last government.
"Police officers alone will make arrests and lead investigations, and police officers will continue to patrol the streets and respond to incidents.
"However, the private sector can help to support delivery of police services better and at lower cost, for example providing staff for control rooms and custody centres, releasing officers for front-line duties."