Apprenticeships scheme to train pilots and lawyers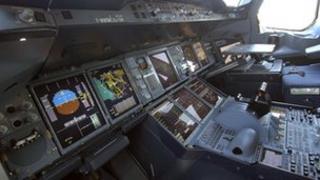 Young people will be able to train as airline pilots, lawyers, accountants and engineers as part of a government apprenticeship scheme.
Some 4,230 placements will be funded in the second round of the £25m higher apprenticeships initiative.
Business Secretary Vince Cable said they would help sectors tackle skills shortages and boost participation by under-represented groups like women.
The CBI said the scheme offered "a great route to a successful career".
Employers such as British Airways, Siemens, Price Waterhouse Cooper, Unilever and the UK Space Agency are involved in the scheme.
Participants are able to pursue degree-level study while getting paid.
'Break down doors'
Mr Cable said the scheme was targeting sectors "where skills shortages are threatening to choke off growth".
For example, it is estimated that between now and 2030 European airlines will need to recruit 92,500 new pilots.
Over the next four years, the government also says the UK will need to train 96,300 engineers just to replace those due to retire.
The business secretary said higher apprenticeships would also "help us break down the doors of professions that are not representative of the society in which we live".
"It cannot be right for example that only 4% of registered commercial airline pilots are women," he added.
Neil Carberry, CBI director for employment and skills, said: "Future skills shortages in key sectors could hold back our economic performance, so boosting higher level apprenticeships now is the right thing to do.
"Sectors like high technology and science-based advanced manufacturing and IT are a good place to start."
Vocational body City & Guilds will provide higher apprenticeships for commercial pilots, and director Simon Witts said they would offer "a more affordable, accessible route to a recognised qualification".