Euro 2012: 6,000 England football fans expected in Kiev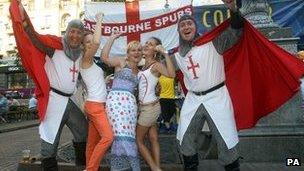 Police say about 6,000 England football fans are expected in Kiev for Sunday's Euro 2012 quarter-final against Italy.
British Airways is using larger-than-normal aircraft for flights to Ukraine as more fans scramble to see England in the tournament's knock-out stage.
During the team's group games, the official England following was 3,000.
Assistant Chief Constable Andy Holt, the police liaison officer in Ukraine, said there had not been any arrests of England fans during the tournament.
Mr Holt, representing the Association of Chief Police Officers, said: "We will have officers at the airport to meet and greet fans as they arrive at the airport, we have officers in uniform here in the centre of Kiev, out and about talking to fans, letting them see that there's a British police presence.
"But as the night moves on, we move into plain clothes and we're able to, if necessary, spot any problems that are occurring and advise our Ukrainian colleagues as to how perhaps they should best tackle any problems to stop them escalating."
But he said so far there had been no sign of any misbehaviour from England fans.
On Friday airlines reported a surge in sales of tickets to Kiev.
Some English fans are also booking flights to Warsaw, for a potential semi-final clash with Germany.
England fans are expected to outnumber Italians, who do not traditionally follow the national team abroad in great numbers.
There will be no UK government ministers at the match. Downing Street has said there are still concerns about the rule of law and selective justice in Ukraine.
It is understood that, if England make it to the semi-final, ministers will attend.
Downing Street says no decision has been made about the final, which is being held in Ukraine. A spokeswoman said: "Let's just see how we go on Sunday."
The UK is particularly concerned at what it terms the "selective justice" meted out to jailed opposition leader Yulia Tymoshenko.
Mrs Tymoshenko played a key role in the Orange Revolution in 2004 and says her imprisonment, for alleged corruption, is an act of political revenge by Ukraine's President Viktor Yanukovych.
The authorities have rejected Mrs Tymoshenko's allegations. She was jailed for seven years in October for abuse of power during her time as prime minister.
Related Internet Links
The BBC is not responsible for the content of external sites.